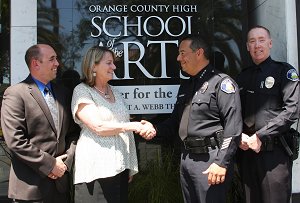 OCHSA Signs Agreement with SAUSD for School Policing and Safety Services
Orange County High School of the Arts Signs Agreement with SAUSD for School Policing and Safety Services
Dedicated School Resource Officer Assigned Beginning July 1
SANTA ANA, CA – June 30, 2011 – Beginning July 1, the Santa Ana Unified School District (SAUSD) Police Department and Orange County High School of the Arts (OCHSA), a renowned public charter school located in the school district, will enter an agreement in which SAUSD will begin providing school policing and safety services for the campus, students and staff. The four-year contract is a first for OCHSA since moving to Santa Ana more than 10 years ago, and comes with a dedicated sworn police officer to serve as a School Resource Officer. The officer will patrol the campus, to protect the school's property, resources and maintain safety and security of students and staff. The officer will also monitor pedestrian and vehicular traffic for enhanced travel safety to and from school on a daily basis.
Under the contract, OCHSA will fund the salary of a full-time police officer, a patrol vehicle, uniforms and other equipment. There is no capital outlay for the school district.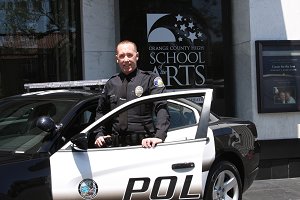 "The District wins and OCHSA wins," said Santa Ana School Police Chief David Valentin. "Our force will benefit from adding an extra sworn officer, and OCHSA will be assured a quicker response to any safety services required. This additional staff member will also serve as a supplement to our police force in the event of any significant incident or emergencies in the greater Santa Ana community impacting OCHSA. I am confident all OCHSA stakeholders will be served well by this newly created position which will also serve as a community education resource to leverage public safety," continued Chief Valentin.
"As we continue to expand the physical footprint of our campus and the school's enrollment grows to 1,750 bright and talented students next year, the welfare of our students and staff remains of primary importance," said Sue Vaughn, Principal for Orange County High School of the Arts. "This new partnership with SAUSD will provide dedicated access to safety services during the school year. The move was a natural progression given our existing positive working relationship."
SAUSD educates approximately 58,000 students at 61 school sites throughout Santa Ana, five of which are charter schools. The K-12 school district is the largest in Orange County and the second largest employer in Santa Ana, with approximately 4,500 educators and staff members. Its school police force consists of 74 members, 24 of whom are sworn officers. To learn more about SAUSD, log on to www.sausd.us or call 714-558-5555.
###
Top photo: OCHSA Principal Sue Vaughn shakes hands with School Police Chief David Valentin. With them is Assistant Principal Michael Ciecek and School Resource Officer assigned to OCHSA Steve Sogsti.
Bottom photo: School Resource Officer Steve Sogsti begins OCHSA assignment on July 1, 2011.