Wisconsin Budget Repair Bill Protest from Matt Wisniewski on Vimeo.
The Orange County Labor Federation is marching on the State Office Building in Santa Ana, on Thursday, Feb. 24, at 5:30 pm, in a candlelight vigil, to show support for the labor unions in Wisconsin and for collective bargaining rights.
The State Office Building is located at 28 Civic Center Plaza, in downtown Santa Ana.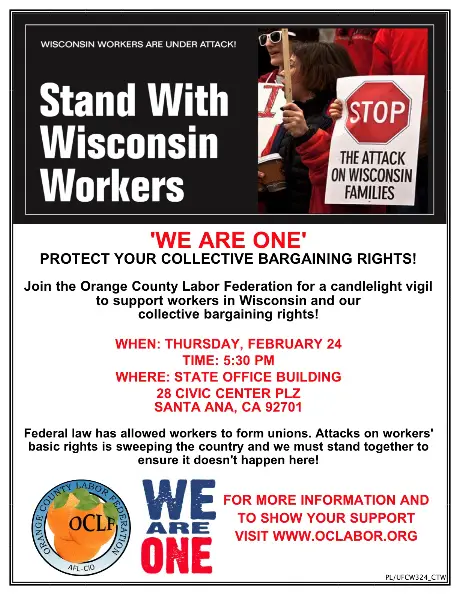 If you would like to give financial support to the workers fighting against the attacks on Collective Bargaining Rights, you can do so ONLINE: by clicking here to make donations by PayPal or any major credit card. Or CHECKS can be made payable to the Wisconsin State AFL-CIO Defense Fund, 6333 W. Blue Mound Rd., Milwaukee, WI 53213 (Please indicate the purpose in the memo line of your check.)
Click here to find out more about the AFL-CIO.  Click here to find We are One on Facebook.