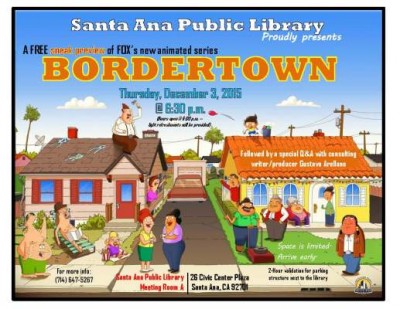 City of Santa Ana
Community: SANTA ANA PUBLIC LIBRARY HOSTS SNEAK PREVIEW OF ANIMATED COMEDY "BORDERTOWN"
The Santa Ana Public Library will hold an exclusive sneak preview of FOX's upcoming animated series, BORDERTOWN. From the creators of FAMILY GUY comes "an animated comedy about two families living in a Southwest desert town on the US – Mexico border. The series takes a satirical look at the cultural shifts occurring in America, where the U.S. Census forecasts that by 2017, ethnic minorities will become the majority. Set against this increasingly diverse backdrop, the comedy explores family, politics and everything in between with a cross-cultural wink" – FOX.com.
The series is created and written by Mark Hentemann. Hentemann and Seth MacFarlane (FAMILY GUY) are executive producers. Alex Carter (FAMILY GUY) and Dan Vebber (AMERICAN DAD, "Futurama") are co-executive producers. Lalo Alcaraz ("La Cucaracha") and Gustavo Arellano ("¡Ask a Mexican!") are consulting producers. Valentina L. Garza (THE SIMPSONS) is a supervising producer.
The Santa Ana Public Library will hold a free, special screening of an episode of the new animated comedy on Thursday, December 3, 2015 at 6:30 p.m. Directly following the preview, there will be a Q&A session with writer and consulting producer Gustavo Arellano (OC WEEKLY, "¡Ask a Mexican!", Taco U.S.A.) Doors will open at 6:00 p.m. and light refreshments will be provided prior to the screening. Space is limited so please arrive early to grab a seat for this very special event. Parental supervision is advised; content may not be suitable for minors under the age of 14.
2-hour parking validation will be provided for event attendees for the parking structure located next to the library on Civic Center Drive. Free parking is also available at the meters on Ross Street across from the library.
For more information about this event, please contact (714) 647-5267.
For more information about FOX's BORDERTOWN, visit: http://www.fox.com/bordertown
THE SANTA ANA PUBLIC LIBRARY IS LOCATED AT:
26 CIVIC CENTER PLAZA (corner of Civic Center and Ross)