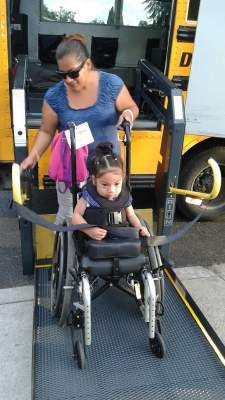 Someone stole a special wheelchair belonging to a four-year-old girl, right from her family's back patio, at the 400 block of South Flower Street, in Santa Ana, according to the O.C. Register.
The little girl, named Milagros, was born without legs among several other medical issues and wasn't expected to survive – but somehow she did.
The wheelchair was stolen early last Saturday morning and was reported to the SAPD on Tuesday night.  The family tried to find the wheelchair but was unable to do so.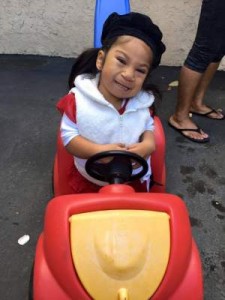 The wheelchair is estimated to be worth about $1,500. The family was only able to buy it with help from an insurance program.
The family will not be able to buy a new wheelchair.  The husband makes very little money working as a newspaper delivery driver.  The mother spends most of her time taking care of Milagros.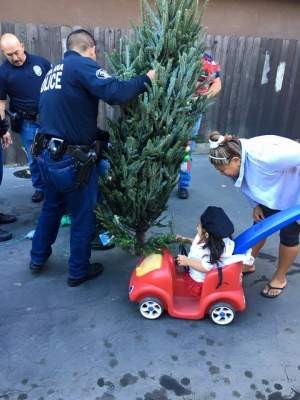 The SAPD was not able to find the wheelchair but on Wednesday morning they delivered a Christmas tree to Milagros' family, courtesy of Home Depot.
While Milagros can get around on a small Disney Princess Skateboard she will need her wheelchair to move around when she goes back to school after the holiday break.
The police are continuing to try to find a replacement wheelchair.  That won't be easy as the wheelchair has to be fitted for a four-year-old.
Anyone with information is asked to call the Santa Ana Police Department at 714-245-8665. Those who wish to remain anonymous are asked to contact Orange County Crime Stoppers 1-855-TIP-OCCS.
The Santa Ana Police Officers' Association has agreed to accept donations to assist Milagros and her family through their Widows and Orphans Fund. This fund is recognized as a Charitable Organization as defined in section 501(c)(3) of the United States Internal Revenue Code, Tax I.D. 33-0840920. Donations can be made payable to:
S.A.P.O.A. Windows & Orphans Fund; ATTENTION: S.A. Resident Rosa Perez & mail to:
S.A.P.O.A.
1607 N. Sycamore Street
Santa Ana, CA 92701
This incident happened next to Santa Ana High School, in Santa Ana's Ward 2, which is represented by Councilwoman Michele Martinez.