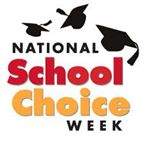 NATIONAL SCHOOL CHOICE WEEK INFO & ENROLLMENT FAIR AT MAINPLACE MALL ON JANUARY 27
Local school districts and public charter schools, community leaders and education partners will participate in Orange County's 3rd Annual celebration
In celebration of National School Choice Week, the Orange County Parent Union has gathered local school districts, public charter schools and business partners for its 3rd Annual Orange County School Choice Information and Enrollment Fair that will take place on January 27 from 10 a.m. – 2 p.m. at Santa Ana's MainPlace Mall.
The fair is open to the public, and attendees will have access to representatives from Orange County school districts,
public charter schools, home school and on-line learning organizations. The goal: to help families understand the public
school options for their children.
"School choice is all about giving parents access to the best K-12 education options for their children," said Cecilia
"Ceci" Iglesias, president of the Orange County Parent Union. "Our annual fair is a forum for local school districts and
public charter schools to talk with students and parents about those options."
Both district schools and charter schools are free public schools that provide education options to Orange County
families.
What: 3rd annual Orange County School Choice Fair
When: Saturday, January 27, 2018 from 10 a.m. – 2 p.m.
Where: MainPlace Mall at 2800 N. Main St., Santa Ana, CA 92705
FEATURED SPEAKERS BEGINNING AT 11 A.M.
Los Alamitos School Board Member Jeff Barke
Assemblyman Steven Choi (68th Assembly District)
State Senator (ret) Bob Huff
Santa Ana School Board member Cecilia Iglesias
Anaheim Councilmember Lucille Kring
Anaheim Councilmember Kris Murray
Larry Sand, President of the California Teachers Empowerment Network
Orange County Supervisor Todd Spitzer
City of Orange Councilmember Fred Whitaker
Santa Ana Councilmember Juan Villegas
"MainPlace Mall is dedicated to serving our local community, and we're thrilled to host this very important event for
Orange County families," said Debbie Porter, director of marketing at MainPlace Mall. "With so many great resources
available at the School Choice Info and Enrollment Fair, it's our hope that parents will collect a ton of useful information
after exploring all public school options, enabling them to find the perfect fit for their child."
High-performing district schools and public charter schools offer longer school days, personalized learning programs,
project-based learning, and such specialized curriculum as college prep, arts, or Science/Technology/Engineering/Math
(or STEM) focused. Demand for such free, prestigious schools is high. If student applications exceed the number of
available seats, a public lottery is held at each campus to determine enrollment.
ABOUT THE PARENT UNION
The Parent Union, a project of the California Policy Center, is a group of parents working to ensure that every child has
access to quality public education. We believe that when parents choose the best education for their child, students and
communities win.
# # #
For more information:
Cecilia Iglesias
Education and Community Relations Director
California Policy Center
(714) 573-2208
cecilia@calpolicycenter.org