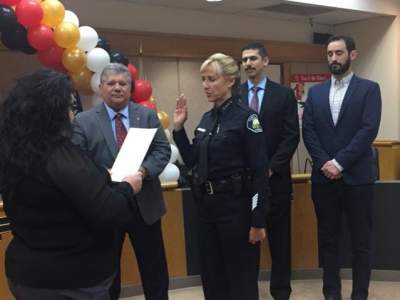 Anastasia Smith is the new chief of the SAUSD Police Department. She brings more than 27 years of experience to the position.
Smith was sworn in as the new Chief of the Santa Ana Unified School District Police Department on January 16, 2018. She was selected after a national search and a rigorous interview process and brings more than 27 years of experience to the position.
Board of Education members, Superintendent Dr. Stefanie Phillips, district leaders and staff, Acting Chief of Police for the Santa Ana Police Department David Valentin, and Smith's family and supporters attended the swearing-in ceremony.
"We are excited to welcome Chief Smith," Dr. Phillips said. "She is going to do wonderful things with a department that is already doing fantastic work. We know that under her leadership our partnerships throughout the city and the attention to our students' safety is going to continue and grow."
Smith has over 27 ½ years of law enforcement experience and retired from the San Diego Police Department as the Captain of the Internal Affairs, Professional Standards and Equal Employment Opportunity Units. In that assignment, she also served as the liaison to the Independent Citizen's Review Board on Police Practices and worked with the community to improve police transparency and accountability.
Smith possesses an Associate's Degree and a Bachelor's Degree in Criminal Justice Management. She is a graduate of the FBI National Academy in Quantico, VA, and the Sherman Block Supervisory Leadership Institute of California. She has received numerous formal awards and citations and was selected as "Woman of the Year" by State Assemblywoman Lorena Gonzalez in 2014. She also received the "Women in Blue" award and was honored by the San Diego City Council with a "Captain Anastasia Smith Day" on March 25, 2015.
Smith has been married to her husband, Manuel, for 33 years. Manuel retired from the San Diego Police Department, as did his father and grandfather. Their proudest accomplishments are their grown sons, who are in the fields of education and law enforcement.
As a proud new member of the Santa Ana Unified School Police Department, Smith is committed to strengthening the department's community policing efforts through collaboration, teamwork and 21st Century policing practices. Under her leadership and mentorship, the department will work diligently to provide for the safety and security of our children, families, staff and community.
"This is really important because our school police do so many things for our community and play so many roles," SAUSD Board of Education President Valerie Amezcua said. "Whether it's counseling or participating in programs, they wear so many hats and she has a wealth of experience. We're going to do some great things with her leading our police department."