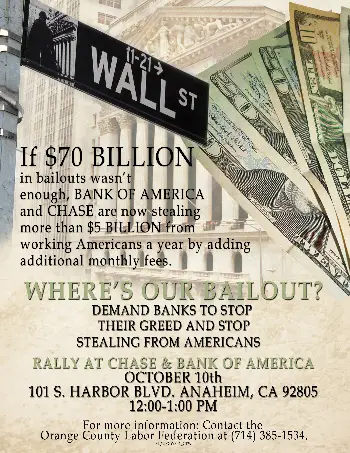 The Occupy American movement is going to congregate in Anaheim, on Oct. 10, from 12 noon to 1 pm, at 101 S. Harbor Bl, to protest Chase and Bank of America.
It would appear that the unions are now involved in this, which comes as no surprise.  What is funny is that they are mad at the banks for charging debit card fees, but it was the Democrats in Congress who passed a bill that led to this.  Did they really think the banks would just eat their lost profit?  Would you?
To add to the irony, the protesters are mad about the bailouts, which Obama (and Bush) supported and which the Democrats in Congress approved (and quite a few dumb Republicans too).
If these guys really want to protest they should quit the red and blue parties and vote for any third party candidates instead.  Have they forgotten that Obama's Chief of Staff was working for Goldman and Sachs when Obama hired him?
If you want to fix this country, may I suggest:
Legalize marijuana and all other such drugs.  Tax their sale.  Put the users in treatment, not jail.
Get rid of the death penalty.
Reform 3 Strikes to include only violent crimes.
Get out of the Middle East and close every military base in the developed world.  Bring the troops home.  Let our rich allies take care of themselves.
Get rid of all public unions.
Get rid of early retirement for cops and firemen.  They should retire at the same age we do.
No free health care for Congressmen.  And no free cars for any legislators at any level.
Let families use their federal tax money to put their kids in any school they want to, public or private.
Legalize gay marriage
Legalize gambling.  And tax it.
One more Amnesty!  That alone will fix the economy.