Amy Stewart Presentation & Book Signing on Sunday, October 8, 2011 – 12:00 pm, at the Heritage Museum of Orange County.
Join author Amy Stewart for a darkly comical look at the sinister side of our relationship with the insect world. In this talk based on her latest New York Times bestseller, Wicked Bugs, you'll meet creatures that infest, infect, and generally wreak havoc on human affairs. From the world's most painful hornet, to the flies that transmit deadly diseases, to millipedes that stop traffic, to the "bookworms" that devour libraries, to the Japanese beetles munching on your roses, Wicked Bugs delves into the extraordinary power of six and eight-legged creatures. It's a mixture of history, science, murder, and intrigue that begins–but doesn't end–in your own backyard.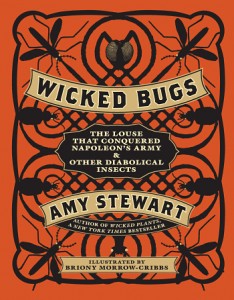 After her talk, Ms Stewart will be available to sign copies of Wicked Bugs, which may be purchased at the event.
All proceeds from the book sales will benefit Heritage Museum's hands-on educational programs for children.
Note: According to Ms Stewart, this talk is aimed primarily at the interests of an adult audience. In her experience, younger teens and children are likely to find it relatively uninteresting.
The Heritage Museum of Orange County is located at 3101 West Harvard Street, in Santa Ana.  Click here for directions.