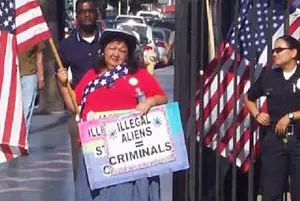 Santa Ana resident Tim Whitacre fought the good fight on Monday night, at the Republican Party of Orange County's Central Committee meeting – and he has nothing to hang his head about.  He got 23 votes, out of a total of 54 elected members of the Central Committee, in his campaign for party chair, against longtime incumbent OC GOP Chairman Scott Baugh.
According to Whitacre, who I spoke with tonight, there was a large crowd at the back of the room that largely cheered him on, much to Baugh's consternation.
The big news on Monday, was that party heavyweight Jon Fleischman lost his campaign for Vice Chair.  He was upended by Deborah Pauly.  Whitacre's ally, Allan Bartlett, lost that race but the consolation prize was watching Fleischman lose.
There were also a couple of seats to fill on the 69th Assembly District's delegation, as Robert Hammond earned a seat on the Central Committee as a candidate for that Assembly District.  But since he also ran for the Central Committee, he vacated that seat, and it was handed to Gwen Dyrud, who campaigned for Van Tran this year in his race against Congresswoman Loretta Sanchez.
Minuteman Lupe Moreno was appointed to serve as Dyrud's alternate on the Committee – so, after losing in the Central Committee election in June of last year, she is back on the Committee – as an alternate.
Moreno was involved in a huge scandal this year when she took over the Santa Ana 4th of July event, at the Santa Ana Public Library, and brought a bunch of Minutemen with her.  One of them got caught on video calling a Santa Ana resident a "wetback."  Moreno was rewarded for her efforts with a certificate from Santa Ana Councilman David Benavides.
Scott Carpenter won a seat in the 69th but he moved out of the district after the election.  His seat was given to Charles Hart, who ran for Mayor of Santa Ana this year.  Hart started out strong only to watch many of his supporters jump on Alfredo Amezcua's bandwagon, late in the game.
Thomas Gordon won a seat on the OC GOP Central Committee in June as well – but he skipped Monday's meeting.  I spoke to Gordon and he said that he told Baugh and others with the OC GOP Executive Committee that he was not going to be there, for personal reasons.
There was a commotion in the press today, as Walter Myers , a conservative black Republican, raised a stink after he was overlooked in his quest to gain a vacant seat on the Committee in the 71st Assembly District. The seat went to a white candidate, as reported today in Total Buzz, by Martin Wisckol.  What Wisckol did not report is that the three members of that delegation who chose not to vote for Myers were all Baugh allies – including Mark Bucher, and Marcia Gilchrist.
Myers has worked diligently for the OC GOP in ethnic outreach – but he got punked anyway.  And there is no way Baugh did not know about this, not with his allies joining in rejecting Myers.
Baugh tried to recover from this faux pas by pointing out that he has hired Laura Cunningham and George Andrews to fill out his party staff.  Cunningham is a Latina, who is married to Red County blogger Matt Cunningham – a consultant who serves on both the Orange Planning Commission and the Orange County Beaches, Harbors and Parks Commission – even though he often works for developers.  Andrews is East Indian.  He is an ally of the aforementioned Van Tran.
Laura made headlines in 2008, when she was hired to conduct Latino outreach for Prop. 8, the anti-gay marriage ballot measure.  She once serves as the OC GOP's Executive Director, when Baugh first took over as Party Chairman.  But that was a train wreck.  She was dismissed a few months into her tenure, amidst allegations of ego problems.
If you want a big laugh, check out the OC GOP's Central Committee page.  The OC GOP is utterly lacking in diversity.  Orange County is now a majority minority county.  The only saving grace for Baugh and his cohorts is that their Democratic counterparts are an even bigger mess.