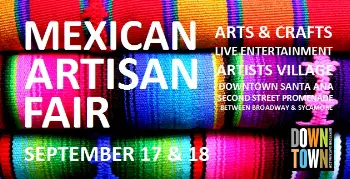 MEXICAN ARTISAN FAIR // FERIA DE ARTESANÍA MEXICANA
A two-day celebration of Mexico's independence through art & music
Celebrando la independencia de México a través del arte y la música
Saturday, September 17th – 2 to 7pm
"PARADE OF STATES" @ 2PM
a fashion presentation showcasing the 32 states of Mexico, presented by : Los 32 Por México en Orange County, the OC Fashion Association & Genevieve Barrios-Southgate
 AUTHENTHIC ARTS & CRAFTS: Representatives from various Mexican regions will be present showcasing arts & crafts available for sale
LIVE MUSIC & ENTERTAINMENT from 3 to 7 PM: Traditional music & dance from various Mexican regions
Sunday, September 18th – 2 to 7pm
LIVE MUSIC & ENTERTAINMENT from 2 to 7 PM
Traditional music & dance from various Mexican regions
AUTHENTHIC ARTS & CRAFTS
Representatives from various Mexican regions will be present showcasing arts & crafts available for sale
ART & FASHION SHOWCASES in the Santora Arts Building:
@ Studio del Sotano: EXHIBIT OF TRADITIONAL HUIPLES, from the indigenous villages of Mexico, @ 207 N. Broadway, Suite B (Lower Level)
@ Seven1Four Studio, @ 207 N. Broadway (Lower Level)
@ MC Gallery,  THE ART OF SERGIO O'CADIZ, @ 207 N. Broadway, Suite B (Second Floor) (on display now til September 28th)
This two-day special event is free and open to the public.
Presented by Downtown Incorporated in collaboration with the City of Santa Ana Parks & Recreation, el Consulado de México en Santa Ana, Los 32 Por México en Orange County & the OC Fashion Association.
FOR MORE INFO, CONTACT : (714) 547-6100 ext. 205
Click here for the Facebook event page.