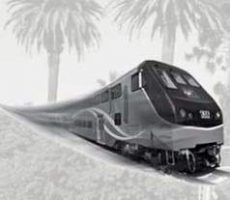 For three nights, starting on Tuesday, 7/21/20 through Friday night 7/24/20, Metrolink will be inspecting and maintaining the railroad track system in Santa Ana between 8:00 pm and 6:00 am.
If needed, crews will repair equipment. Even within Quiet Zones, this work could lead to:
• Possible Train Horns
• Noise and/or light from maintenance vehicles or activities
No delays at the railroad crossings or for passenger train service are anticipated.
Questions and concerns may be directed to Metrolink's Community Relations hotline at 213-452-0433 or to communityrelations@scrra.net.
Mantenimiento del Ferrocarril Metrolink a partir del Martes por la Noche
Durante tres noches, a partir del martes 21 de julio hasta la noche del viernes 24 de julio, Metrolink inspeccionará y mantendrá el sistema de vías férrea en Santa Ana entre las 8:00 p.m. y las 6:00 a.m.
Si es necesario, el trabajo de reparacion se llevara acabo aún en zonas de silencio. El trabajo causara:
• Sonidos fuertes de bocina del tren
• Ruido y/o luz de vehículos y actividades relacionadas.
No se proveen retrasos en los cruces ferroviarios ni en el servicio de trenes a pasajeros.
Las preguntas e inquietudes pueden dirigirse a la línea directa de Relaciones Comunitarias de Metrolink al 213-452-0433 o a communityrelations@scrra.net.