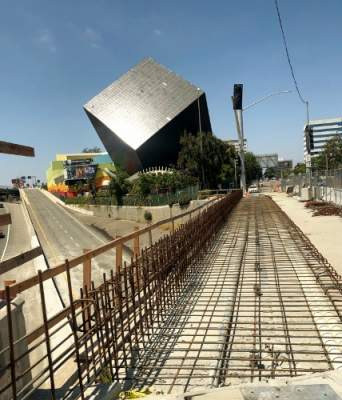 I-5 Central Corridor HOV Project construction activities are also scheduled to continue this week on Main Street in the City of Santa Ana for the bridge barrier.
The far right lane on southbound Main Street will be closed from 6 a.m. to noon, between Walkie Way and the work area, near Edgewood Road starting at 6 a.m. to 5 p.m. on both Thursday, August 27th, and Friday, August 28, 2020.
Please avoid this area by using Broadway instead Main Street during these times, as there may be some traffic delays.
OCTA and Caltrans' construction team has been expediting this work while traffic demand has been relatively lower due to COVID-19. Should you have any questions or issues with the construction please call (800) 724-0353 or e-mail central5fwy@octa.net.
When fully completed, this project will add an additional carpool lane (for a total of two lanes) in each direction on I-5 between SR-55 and SR-57 to reduce traffic congestion, bottlenecks, encourage ride-sharing and improve traffic flow. Construction is expected to be completed in early 2021. To sign up for construction alerts or for more information, visit www.octa.net/i5Central.
Dates and times are subject to change if there is inclement weather or if there are unforeseen construction constraints.
Visit www.octa.net/i5centralmap for all project closures.
Los equipos de construcción están programados para instalar una barrera de concreto para el puente en la calle Main Street, de las 6 a.m. a las 5 p.m., el jueves 27 de agosto y viernes 28 de agosto.
Este trabajo requiere el cierre del carril extremo de la derecha en la calle Main Street dirección hacia el sur entre las 6 a.m. y hasta el mediodía, entre la calle Walkie Way y el área de trabajo.
Visite www.octa.net/i5centralmap para todos los cierres del proyecto.