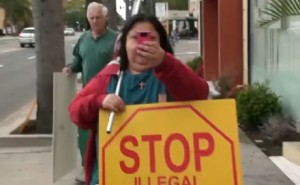 Lupe Moreno, perhaps the most notorious of Orange County's Minutemen, has filed to run for Mayor of Santa Ana, according to the O.C. Register. 
Moreno has a long history of running for office in Santa Ana and in Orange County, as follows:
According to a Minuteman website, "Moreno is Mexican, and a Minutemen. She says her father was a "coyote" – a smuggler of illegal immigrants, and that her involvement with the Minutemen is a way for her to make amends for her father's past."
For some reason Moreno has been allowed to serve as President of the Santa Ana Friends of the Library for many years.  Two years ago she  imported several Minutemen to our city to help her with a 4th of July event that backfired when one of her Minutmen was caught on video calling a Santa Ana resident a "wetback."  Santa Ana Council Member David Benavides honored her and her committee after that debacle, compelling the rest of the Santa Ana City Council to get up and leave the Council chambers while Benavides passed out certificates.  Benavides, like Moreno, is also running for Mayor of Santa Ana this year.