Local Group Raises $1,500 for Nonprofit Community Service Programs at Santa Ana Lunch
Forget about "ladies who lunch." The 35 women who make up "Chew for Charity," a group that raises funds and awareness for Community Service Programs (CSP), has been meeting monthly since 2007 and has raised more than $80,000 for CSP, a nonprofit that provides counseling and support services to struggling OC children and families at their greatest time of need. Every contribution collected, lunch organized, detail buttoned down is all volunteer-driven.
On December 8, the latest Chew for Charity meeting was held at Antonello Ristorante in Santa Ana and raised $1,500 for CSP.
For nearly a decade, the guild has met monthly and has been known to raise up to $12,000 to $15,000 a year for CSP. Community Service Programs Board Member Barbara Steensland has spearheaded the group and this year the co-chairs are Margaret Jamison and Kaysene Miller.
In order to raise funds for CSP, opportunity drawings are held each lunch for attendees. Funds benefit the nonprofit and each of its programs. In addition to regular lunches, guild members also help to sell tickets for CSP fundraising events, and advocate on behalf of CSP throughout the Orange County community. They learn about the different programs through speakers during monthly meetings.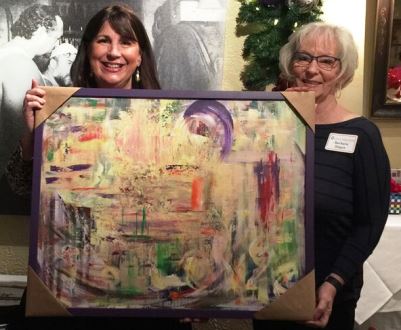 A former Community Service Programs Laguna Beach Youth Shelter graduate, Emma, spoke on December 8 to the 31 luncheon attendees. She shared her experience at the Community Service Programs Laguna Beach Youth Shelter and how the support received through CSP helped to turn her life around for the better. The CSP Laguna Beach Youth Shelter has served more than 3,850 at-risk youth, most of whom suffered early childhood trauma, and an estimated 10,000 family members since opening its doors in 1979. Almost all of the residents (97 percent) are reunited successfully with their families.
The guild members blow away misconceptions about ladies who lunch, and are driven with passion to support the work of CSP in our community, including CSP's lasting mark on at-risk local youth such as Emma.
About Community Service Programs
Community Service Programs (CSP) is a nonprofit agency committed to serving children, adults and families living in Orange County who are involved with or at-risk of involvement with the justice system. CSP's model programs assist over 111,000 community members annually, including abused children, struggling families, acting out adolescents, victims of crime, and those in need of mediation services. For more information on CSP and its programs, visit www.cspinc.org.
###