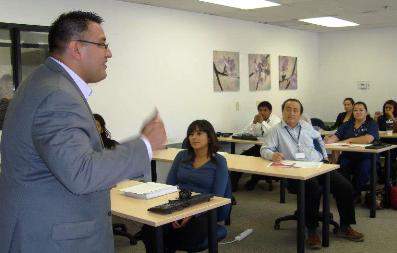 For Immediate Release
For-Profit Career College Launches Free Career Workshops in Partnership with Local Non-Profits
Career College of California provides their successful career training to local residents free of charge.
Santa Ana, CA – September 28, 2012 – Career College of California seems to be doing something right since over 80% of their graduates are landing jobs in their fields of training. But with the unemployment rate still sky-high in Orange County they have decided to make some of their proprietary career services training available to local residents free of charge. They have partnered with some of the best and well respected local organizations including Kidworks, Working Wardrobes, Orange County Therapeutic Arts Center, Santa Ana Work Center, U.S. Marines and most recently Santa Ana Public Library to offer a series of career focused workshops.
Career College of California's career services staff is offering its career training to these local non-profits with the hope that the tips and skills they teach their students on their campus will produce similar results for attendees of the community workshops available for free in partnership with local organizations. "We are so impressed with the amazing work these organizations are doing to support individuals to achieve self-sufficiency and personal success. We want to help in any way we can to fuel their great work," said Niko Everett, Career College of California's President.
These workshops include everything from resume writing to how to manage your personal online image. Recently they hosted a group of young adults to their campus to use their professional photo booth and then taught them how to build their Linked In profile using their head-shots. They also worked with local U.S. Marines to utilize their Facebook pages to reach out and engage their networks in order to help them find jobs.
On October 1st they are launching Career Month in partnership with the Santa Ana Public Library and teaching a workshop every Monday at 10:00 am in October at the Santa Ana Public Library. They will offer free resume reviews, mock interviews and will have a special guest from a local staffing agency on site to give coaching about how to effectively work with a staffing agency to land a job.
"We focus most of our time on empowering our students to achieve success by starting a new career but we know that not everyone can go back to school and so our hope is that by bringing our successful workshops out to the public we will help other local residents achieve that same success on their own," said Caleb Everett, Career College of California's CEO.
More information and registration are available at www.careercalifornia.edu.
About Career College of California
Career College of California is a nationally accredited college in historic downtown Santa Ana offering job training and job placement assistance in in-demand fields such as Business Office Administration, Medical Billing, Paralegal and Medical Assisting. Career College of California enables its students to achieve outstanding results by providing high quality job-skills training, life-skills workshops, and intensive, individualized placement assistance. For more information see www.careercalifornia.edu. Niko Everett, President, and Caleb Everett, CEO, are available for interviews and further information.
For additional information:
Niko Everett, Director of Communications
Career College of California, 714-795-7270
niko@careercalifornia.edu