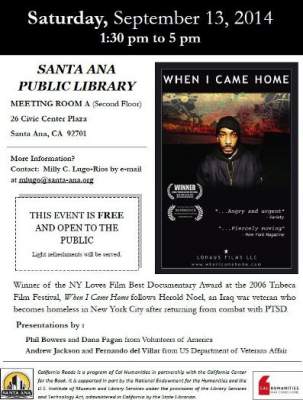 City of Santa Ana
Community: SANTA ANA PUBLIC LIBRARY CONTINUES SEPTEMBER PROGRAMMING WITH FREE SCREENING OF "WHEN CAN I COME HOME"
SANTA ANA, CA – As part of the Cal Humanities War Comes Home: Finding Peace at the Home Front series, the Santa Ana Public Library will have the following free events during the month of September introducing challenges faced by veterans and the realities of war.
Saturday, September 13, 2014, the library will be screening When I Came Home, winner of the NY Loves Film Best Documentary Award at the 2006 Tribeca Film Festival. When I Came Home follows Herold Noel, an Iraq war veteran who becomes homeless in New York City after returning from combat with PTSD (Post Traumatic Stress Disorder). After the screening there will be presentations by representatives from the Volunteers of America and US Department of Veterans Affairs. The screening will be held from 1:30 pm – 5 pm in the Santa Ana Public Library Meeting Room A. Light refreshments will be served.
A highlight event for the month of September is the Santa Ana Public Library's partnership with the historic Frida Cinema in downtown Santa Ana. On Saturday, September 20, 2014 The Forgotten Eagles will screen at the Frida from 2 pm – 4 pm. The Forgotten Eagles tells the story of the legendary "Aztec Eagles" of the Mexican Expeditionary Air Force, who flew with the American 58th Fighter Group on Luzon in 1945. The film was produced by 201 Productions, Executive Producers Roger and Felicity Marrs and Producer/Director Victor Mancilla, who has made it available for viewing. This event will have special guest presentations. The Frida Cinema is located at 305 E. 4th Street, Santa Ana, CA 92701.
The Santa Ana Public Library is located at 26 Civic Center Plaza, Santa Ana, CA 92701 at the corner of Ross Street and Civic Center Drive.
For more information on any of these free events, contact: Milly Lugo-Rios at (714) 647-5271 or by email: mlugo@santa-ana.org.
California Reads is a program of Cal Humanities in partnership with the California Center for the Book. It is supported in part by the National Endowment for the Humanities and the U.S. Institute of Museum and Library Services under the provisions of the Library Services and Technology Act, administered in California by the State Librarian.
Cal Humanities is a non-profit state partner of the National Endowment for the Humanities. For more information on Cal Humanities, please visit www.calhum.org.
THE SANTA ANA PUBLIC LIBRARY IS LOCATED AT:
26 CIVIC CENTER PLAZA (corner of Civic Center and Ross)
-End-