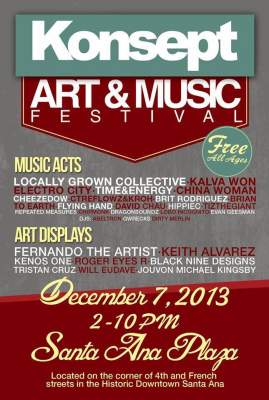 Ashley LaCambra – Public Relations Coordinator – 949-226-1442
Tyson Pruong – Founder – 657-210-2417

Konsept presents Art and Music Festival
The festivities continue for Konsept as they celebrate their two year anniversary on December 7, 2013 in their first Art and Music Festival. The event will take place in the Plaza Santa Ana found on 305 E 4th Street, Santa Ana, CA 92701 from 2pm-10pm.
With admission free of charge, curious wanderers of all ages may enter the festival to feel a sense of what Downtown Santa Ana Artist Village is all about and to see why Konsept was awarded the 2013 Best Art Collective in Orange County by OC Weekly. Although music is the main focus of this event, our artists, designers and even balloon makers will be sharing the plaza for an unforgettable celebration.
But not to worry, no one will ever be left hungry or thirsty throughout this all-day event. Jarritos will be handing out their delicious sodas to the first 300 people who arrive. Also, the Red Bull Wings Team will be handing out free Redbulls and Tino's Tacos will be selling their authentic hard-shell tacos.
Headliners in this Konsept lollapalooza are local talents such as Locally Grown Collective (www.facebook.com/LocallyGrownCltv), Kalva Won (www.kalvawon.com), Time And Energy (soundcloud.com/timeandenergy) and Electro City (www.facebook.com/cityofelectrocity). There will be a total of sixteen musical acts and the rest of the line-up can be found on the Konsept Facebook Page (www.facebook.com/konseptproject). The genre of each performance ranges from indie to electro to hip hop.
Local artists displaying their work are Fernando The Artist, Keith Alvarez, Kenos One, Roger Eyes R, Black Nine Designs, Tristan Cruz and Will Eudave. The photographers and videographers who will be documenting the festival are OC Snaps, E.P. Photography, Bella Morte Photography, Izeldalia Photography, E.T. BackyardPics, and D&D Presents.
This event would never even have made possible without the sponsorship of Downtown Inc, East End Santa Ana (www.facebook.com/eastendsantaana), Left Of The Dial Records (www.facebook.com/leftofthedialrecords), Rumorz Kutz (www.facebook.com/pages/RumoRz-KuTz-Hair-Studio/159030070837889), Urban Vapes (www.facebook.com/urbanvapesorangecounty), Slapstation (www.SlapStationVisuals.Tumblr.Com), Carvin G (www.carvinguitars.com), Jarritos (jarritos.com), and Factory Co. (factory.bigcartel.com). Additional freebies are shirts donated by Factory Co. and Konsept.
Vendors include Grn&Gld, Factory Brand, Urban Vapes, Rumorz Kutz, Maniacs Ink, Locally Grown Collective, Konsept, Forever Young, Arqhtect, Super Inflated and Tino's Tacos.
###