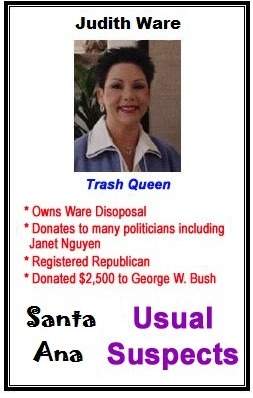 Orange County District Attorney Press Release
For Immediate Release: October 20, 2014
JUDITH WARE, OF WARE DISPOSAL, TO SPONSOR "BE-WARE OF H.E.A.T." LUNCHEON AT 2ND ANNUAL "KEEP CALM AND BEAT H.E.A.T. ROCKING & RALLY"
SANTA ANA – The Orange County District Attorney's Office (OCDA) and the Orange County Human Trafficking Task Force (OCHTTF) are pleased to announce that Judith Ware and Ware Disposal Company, Inc. (Ware Disposal) will sponsor the "Be-Ware of H.E.A.T." luncheon at the 2nd annual "Keep Calm and Beat H.E.A.T. Rocking and Rally" at Chapman University. The luncheon will feature elected officials, dignitaries, VIP guests, and a question and answer session with three brave human trafficking survivors.
Ware Disposal
Ware Disposal's operations in Orange County provide vital services to homes, schools, businesses, and government facilities. Ware Disposal is committed to lessening their carbon footprint, running a fleet of 100 compressed natural gas trash hauling trucks. The central focus at Ware Disposal is making communities cleaner, safer, and stronger. The family-owned company embraces the opportunity to be a good corporate citizen and is involved in local community and business organizations in addition to making donations and offering support services to a variety of local events.
"As a businesswoman, I have made it a priority to get people back on their feet. As a mother, it's unthinkable to me that children would be exploited and abused in this despicable way. We all need to do what we can to end modern-day slavery," said Judith Ware.
"Judith Ware has been a dear friend for a very long time, and she truly cares about her community. She started a successful business by selling her own car to purchase a garbage truck and built her business from the ground up. Judith is an inspiration to others, especially women. Her life story shows what can be accomplished when a woman is determined and hardworking. I am honored that she wants to give back. If we are going to end modern-day slavery, we must have this type of public-private partnership," said Orange County District Attorney Tony Rackauckas.
In April 2013, OCDA formed the HEAT Unit, which targets perpetrators who sexually exploit and traffic women and underage girls for financial gain, including pimps, panderers, and human traffickers. Often the perpetrators are gang members and/or career criminals. To date, the Unit has completed the prosecution of 56 cases with a 100 percent conviction rate, with sentences up to life in state prison.
The second annual "Keep Calm and Beat H.E.A.T Rocking & Rally" at Chapman University is part of an initiative to go after perpetrators of human exploitation and trafficking with vigor, while taking a comprehensive approach to solve the problem and bring community stakeholders together. The symposium will be held to increase community awareness of human exploitation and trafficking, the second-largest criminal enterprise in the nation behind narcotics trafficking and a $32 billion a year industry. A free rock concert will immediately follow with Director of Music Stan Frazier, of Sugar Ray, at the helm. Frazier is coordinating a group of local musicians who donate their talent and services.
Co-Sponsors
The OCDA would like to thank the co-sponsors for this event.
Elected Officials
U.S. Representative Ed Royce, Chairman of the House Foreign Affairs Committee; U.S. Representative Loretta Sanchez; State Board of Equalization Vice Chair Michelle Steel; Senator Lou Correa; Senator Mimi Walters; Assemblyman Donald Wagner; Chairman of the Orange County Board of Supervisors Shawn Nelson; Orange County Supervisor Janet Nguyen; Rancho Santa Margarita Councilman Steve Baric; Diamond Bar Councilwoman Ling Ling Chang; and Anaheim Councilwoman Kris Murray, Chairman Scott Baugh of the Republican Party of Orange County
Law Enforcement
OCDA Tony Rackauckas, his Chief of Staff Susan Kang Schroeder, Anaheim Chief of Police Raul Quezada, The Orange County Human Trafficking Task Force, The Association of Orange County Deputy Sheriffs, Anaheim Police Department, Brea Police Department, California Highway Patrol, Costa Mesa Police Department, Cypress Police Department, Fountain Valley Police Department, Garden Grove Police Department, Huntington Beach Police Department, Irvine Police Department, Laguna Beach Police Department, La Habra Police Department, La Palma Police Department, Newport Beach Police Department, Orange Police Department, Orange County Sheriff's Department, Placentia Police Department, Santa Ana Police Department, Tustin Police Department, and Westminster Police Department.
Non-Profits
Community Service Programs, Inc.; The Pepper Project; Casa Youth Shelter; iSanctuary; Get Safe USA; The Joyful Child Foundation; Magnolia Baptist Church; Human Trafficking Survivors Foundation; Parents of Murdered Children; United Nations Association of Orange County; Cottonwood Church; Free Them; Justice & Trafficking Initiative at Saddleback Church; Junior League of Orange County, California, Inc.; and Women's Transitional Living Center.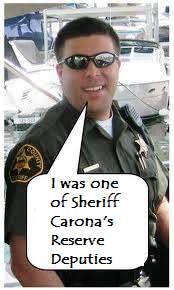 Private Citizens
Mike Schroeder; Jon Fleischman and FlashReport; Kris Plourde and N-Effect Productions; Julianna Nagle, a 17-year-old Girl Scout Ambassador who raised over $500 for this event; Gibson Dunn and Crutcher, LLP; Newmeyer & Dillon, LLP; and Robinson Calcagnie Robinson Shapiro Davis, Inc. Anyone interested in becoming a co-sponsor can contact Chief of Staff Susan Kang Schroeder at (714) 347-8408 or email beatHEAT@da.ocgov.com.
Additional sponsors will continue to be announced. Tax deductible event sponsorship opportunities are available at $500, $1,000 and $5,000 levels. All event sponsors will receive two tickets to the luncheon event and access to the VIP area at the concert, as well as program recognition. Supporters who contribute on the $1,000 and $5,000 levels will be given full table sponsorship, as well as additional tickets to the VIP areas of the concert. All funds will go to underwrite the event and any money left over will go directly to help victims.
For more information, and to RSVP on Facebook, please visit http://bit.ly/BeatHEAT.
###
Tony Rackauckas, District Attorney
401 Civic Center Drive West
Santa Ana, CA 92701
Contacts:
Susan Kang Schroeder
Chief of Staff
Office: 714-347-8408
Cell: 714-292-2718