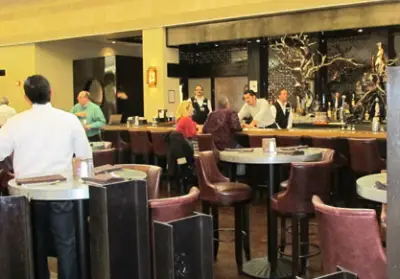 FOR IMMEDIATE RELEASE: December 27, 2011
Contact: Jenny Wedge, (949) 252-5182 (office), jwedge@ocair.com
JAVI'S RESTAURANT OPENS IN JOHN WAYNE AIRPORT
SANTA ANA, Calif. – Long-time favorite dining destination for local and Orange County visitors, Javier's, in partnership with HMSHost, has opened their new concept restaurant Javi's at John Wayne Airport. Javi's is located in the new Terminal C Marketplace area, adjacent to gates 13 and 14.
"We are pleased to announce the opening of Javi's at John Wayne Airport," said Airport Director Alan L. Murphy. "This is a great addition to the many new offerings for dining at the Airport." Javi's will be conveniently located near Terminal C's international gates, which will serve as the gateway from Orange County to Mexico beginning this June with Southwest's non-stop flights to Cabo San Lucas and Mexico City.
Javi's in John Wayne Airport
Javier's menu items include fresh seafood and authentic regional dishes, as well as familiar fare such as nachos, quesadillas and taquitos. All dishes are made with fresh, locally sourced ingredients, including handmade salsa and tortillas from local vendors. Javi's features a Baja-resort themed décor, blending indoor and outdoor environments such as a faux-patio and 'tequila tree', which features a display of 25 premium tequilas.
For more information on Javi's and other JWA dining options, visit http://ocair.com/terminal/restaurants/. For additional amenities and a directory of the Airport, click here.
About John Wayne Airport:
John Wayne Airport (SNA) is owned by the County of Orange and is operated as a self supporting enterprise that receives no general fund tax revenue. The Airport serves approximately nine million passengers annually, reaches 20 non-stop destinations in the United States and Canada and is served by 10 commercial passenger airlines. More information can be found at www.ocair.com.
About HMSHost
HMSHost is a world leader in creating dining and shopping for travel venues. HMSHost operates in more than 100 airports around the globe, including the 20 busiest airports in North America. The Company has annual sales in excess of $2.5 billion and employs more than 34,000 sales associates worldwide. HMSHost is a part of Autogrill Group, the world's leading provider of food & beverage and retail services for people on the move. With sales of over €5.7 billion in 2010, the Group operates in 37 countries and employs some 62,000 people. It manages over 5,300 stores in more than 1,200 locations worldwide. Visit www.HMSHost.com for more information and find us on Facebook at HMSHost Making the Traveler's Day Better.
# # #
You can access JWA news releases at www.ocair.com/newsroom/news