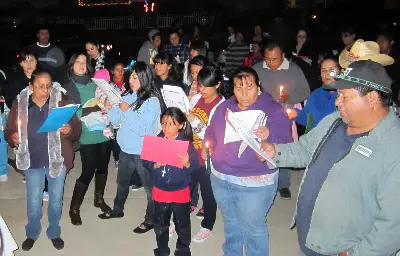 Latino residents in Santa Ana's Riverview Neighborhood have been making a difference in their community by celebrating the Posadas Navideñas for the past four years. The Posadas Navideñas is a traditional Mexican reenactment of the search for lodging that Mary and Joseph did nine days before the birth of Jesus.
The Gallardo family in Riverview schedules a night for the Posada to be held at their home, starting on the 16th of December and finishing on the 24th of December, which we call Noche Buena.  They do this without help from the City of Santa Ana – entirely on their own, unlike the Neighborhood Associations who lean on the City's Community Development Agency for support.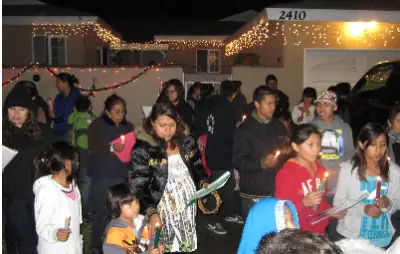 The festivities include:
Dressing up teens and children as Mary, Joseph, and an Angel
Praying the rosary
Walking around the neighborhood with candles and caroling
Asking for Posada at a home and they will welcome the Peregrinos (people who request lodging through singing a simple chant)
The hosting home provides a warm drink and/or food.
They give bags of candy to the children and also have a Piñata for them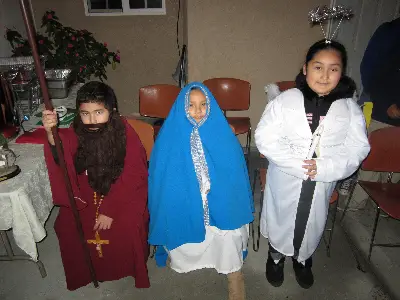 These Riverview families are showing us all that Santa Ana is not just about violence and gangs, but rather about the community coming together in prayer, song, and love for one another.
If you missed out on the Posadas, the good news is that on Jan. 6 these same families will be celebrating Los Reyes Magos.  According to Inside Mexico, After New Year's Day, Mexican families still have a very special date to commemorate and enjoy. On January 6, most of the Hispanic world celebrates El Dia De Reyes, the Epiphany, remembering the day when the Three Wise Men following the star to Bethlehem, arrived bearing their treasured gifts of gold, frankincense and myrrh for the Baby Jesus.