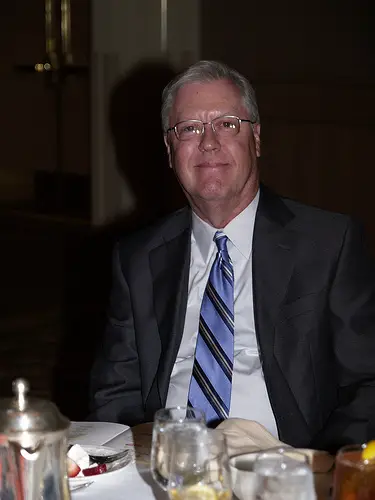 One of our sources is reporting that the organization formerly known as the Santa Ana Chamber of Commerce is going to be undergoing a change in leadership, perhaps as soon as January.
Mike Metzler has served as President and CEO of the Greater Santa Ana Business Alliance for many years.  I have lived in Santa Ana for over fifteen years and cannot remember a previous head of the Santa Ana Chamber of Commerce.
Metzler apparently is going to retire next year.  There have been rumors for over a year that the Board of Directors of his organization was unhappy with the direction they were going in.
Metzler's executive staff has zero Latinos on it.  That is hard to believe in a city like Santa Ana, which has an overwhelmingly Latino populations.  His staff is also bereft of Asians or other minorities.
Metzler made politics a central part of the Chamber's function.  He started a Political Action Committee that endorsed candidates and funded them.  His reward was a contract with the City of Santa Ana to publish his Chamber news monthly, the CityLine. 
Metzler and his PAC were often unfair when it came to endorsements.  Last year they refused to endorse one of their own Directors, Dr. Arturo Lomeli, for the Rancho Santiago Community College Board.  He was running against a resident of Orange.  Lomeli told me that Metzler was mad because he was backing Santa Ana City Councilwoman against Santa Ana Mayor Miguel Pulido.
Metzler also ran a few years ago for the State Assembly, as a Democrat, but he lost badly to Republican Jim Morrissey.
And Metzler backed the Ream Assessment, an attempt by Santa Ana City Manager Dave Ream to impose an assessment, or tax, on the residents of Santa Ana, to pay for the upkeep of islands that Ream install on 17th St. and other major arteries.  The assessment lost badly at the polls.
Metzler lived in Santa Ana for many years.  Reportedly he moved to Tustin a couple of years ago.  He also regularly held Chamber of Commerce events outside of Santa Ana, usually in Orange.  This angered local businesses to no end.
The Greater Santa Ana Business Alliance indicates on their website that their initiatives are to:
Develop the workplace in key industries
Educate in language and technology
Develop residential and commercial housing
In reality, this organization has done little to reach out to local businesses.  They have had almost no impact on job creation.  And today the City of Santa Ana charges more for new business licenses than any other city in Orange County. 
In the right hands, the Greater Santa Ana Business Alliance could be a force for good.  May I suggest that they start by changing their name back to the Santa Ana Chamber of Commerce? 
Santa Ana needs a business organization that will fight higher taxes and civic corruption.  We need a Chamber of Commerce that will fight for local businesses and embrace minority business owners.  Perhaps now, with Metzler apparently on the way out, we might just get that.