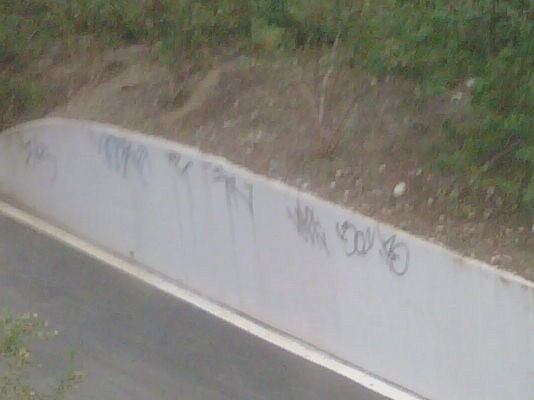 Is the City of Santa Ana's anti-grafitti ordinance working?  I walked from my house in the Park Santiago neighborhood this afternoon over to the Barnes and Noble bookstore on Main St., and you would not believe the amount of graffiti I saw en route!
The picture above shows some of this graffiti, over in Park Santiago, in the area that leads under Main St., to the Discovery Science Center.

It really does not seem like the new ordinance has done anything to stop our graffiti problem.
I predicted all along that it would fail.  Taggers are not afraid of jail time or fines.  And they do their work late at night or in the early morning when our Santa Ana Police Department is busy fighting other crimes.
Is there a solution to our city's growing graffiti problem?  I think a lot of the problem stems from the lack of things to do in town.  Sure, we have a lot of activities for adults, but we have a park shortage, and not enough sports fields.  And have only one mail library and one small auxiliary branch on the west side.
On the plus side, we have a discount movie theater at the MainPlace Mall, that shows older films for less than $2 but we don't have a first-class movie theater for new movies.  And although we are the youngest city in Orange County, we don't even have our own Chuck E. Cheese restaurant!
I hope that our city leaders consider changing our regulations next year to make it easier and less expensive to open new businesses here in town.  We have the most expensive business licenses in Orange County, and it is not close.  It is so sad to drive around and see so many vacancies.  The graffiti just makes it worse.
The sinking economy has also made it even tougher for parents.  Many are now working two jobs as they struggle to survive.  That could be part of the graffiti problem – parents don't know what their kids are up to.
Would more security  cameras do the trick?  Or perhaps using uniformed security guards to augment our short-handed police force?
Graffiti is certainly a problem, but increased fines and jail time are pointless if taggers don't care and the SAPD can't catch them.  If we can do more to head off the problem by working with our youth and helping our working families we would be far better off.