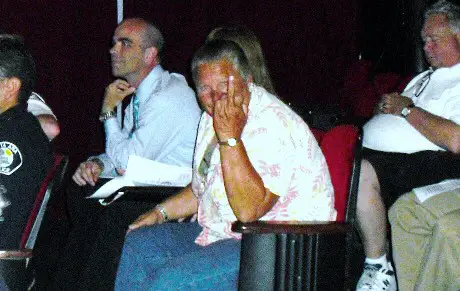 Unethical behavior is abundant in Santa Ana politics…
The Santa Ana City Council is holding a meeting on Dec. 6, at 5:30 pm, to review the "Code of Ethics," which voters passed when they voted for Measure D, which extended Council term limits.  The Council appointed a committee of three Council Members, including Mayor Pro Tem Claudia Alvarez, Vince Sarmiento and Sal Tinajero, to conduct this review.
Alvarez has since backed out – in the wake of the Code being used by Council Members David Benavides and Carlos Bustamante to try to punish her after she made a bad Hitler analogy in referring to controversial Downtown Santa Ana landlord Irv Chase.
None of the other Council Members, including Benavides and Bustamante, want anything to do with the Review Committee.  I can't blame them.  The Code of Ethics was designed to muzzle bloggers who were put on City Commissions.  Ironically it is now being used by the Usual Suspects to attack Santa Ana's Council Member.  And that obsessed Long Beach blogger has written not one but two posts about the Santa Ana Code of Ethics Review Committee.  Good grief!
But there might be a better way – I think perhaps that it might be time to launch a Code of Ethics panel and populate it with current and past City Commissioners and community and business leaders (who would not have to live here but should at least run a business here).  The Usual Suspects of course need not apply.
I could see a Code of Ethics panel that would include Planning Commissioner Sean Mill; Parks and Recreation Commissioner Max Madrid; Youth Commissioner Jonathan Espinoza; Redevelopment Commissioner Lynette Verino; business owner Art Lomeli; community activist Alex Vega; and former Council Member Brett Franklin.  This panel would be charged with reviewing the Code and suggesting changes to the City Council.
What sort of changes should we make to the Code of Ethics?  Well, for one thing, how can Councilman Bustamante be allowed to stay on the Council after he resigned his County job when he was charged with sexual harassment?  Anyone charged with sexual harassment should not be allowed to serve on our City Council or on any of our City Commissions.
How about that former City Commissioner who was detained by the SAPD after he harassed prostitutes on Harbor Blvd.?  Should anyone who has a police record be allowed to serve on a City Commission?  I would hope not.
Or how about that failed City Council candidate who got caught sighing the nomination papers of one of his Council challengers?  Anyone caught engaging in election shenanigans should NOT be allowed to serve on any City Commissions.
What about the former City Commissioner who went berserk at a public meeting in Fullerton?  Commissioners who verbally assault people should of course not be allowed to serve in Santa Ana.
How about the former Councilman who was visibly drunk the last time he was sworn into office – and who now is involved in conducting neighborhood Wine Walks that lack city permits?   Clearly those with drug and alcohol problems need not be considered for any city posts.
How about that Neighborhood Association president that likes to extend her middle finger at City Council meetings?  No bueno!
Clearly we need to consider empowering an Ethics Panel to consider these suggestions and to bring positive change to our Code of Ethics.