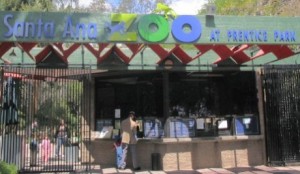 A membership renewal drive for the Friends of the Santa Ana Zoo had revenues of $15,279, of which the organization got $2,433, or less than 16 percent," according to the O.C. Register.
The Friends of the Santa Ana Zoo offered up a lame excuse that the fee was paid to a company that helped them get renewal memberships.
Cathi Decker, the executive director of the Friends of Santa Ana Zoo,  said that they use Comnet, a membership telemarketing company that most Association of Zoos and Aquariums organizations use for membership renewals.
"It is NOT a FUNDRAISING company," she told the O.C. Register by email. "Unfortunately they get categorized together but are completely separate, apples to oranges. FOSAZ does not pay Comnet hourly; they are paid a percentage of each expired Membership that they are able to renew.  They track a good ROI (return on investment) for us and for the other AZA zoos they work for.  FOSAZ does not hire them to do fundraising, nor have we ever.  They are solely focused on renewing previously paid Memberships."
A good ROI?  In this case the Friends of the Santa Ana Zoo only got back 16 percent of the cost of the renewal memberships.  How the heck is that a good ROI?
I predicted constant fee hikes at the Santa Ana Zoo back in 2008 – when the cost for an adult entry was $6 – and that was after a fee hike.  I believe it was $4 as recently as 2007.  It is now $8 and kids have to pay $5.  I suspect the fees will be going up again next year.
Did you know that the Irvine Zoo, which is run by the County of Orange, only charges $2 admission?  Yes, you also have to pay a $3 vehicle admission fee.  But that is still a far better deal than what the Santa Ana Zoo is charging.
What happened to the Santa Ana Zoo?  Back in 2008, I called it the "Bowersization" of the Santa Ana Zoo.  The Bowers Museum used to be dedicated to local O.C. history, and it heavily emphasized Native Americans and the Spanish who settled this area.  It was quite inexpensive to visit the Bowers back then.  Now it is a "World Class" museum and it is no longer a cheap visit, although the Target Corporation does sponsor a free day once a month (it was this Sunday).
The Santa Ana Zoo also sponsors a free day, for local residents.  I fought for years to move it from a Tuesday, when working folks could not visit the Zoo as it closes at 5 pm, to a Sunday.  That change finally happened, no thanks to the Friends of the Santa Ana Zoo.  Santa Ana Parks and Recreation Agency Director Gerardo Mouet was the one who hammered through that change.  I spoke to a member of the Friends last weekend and he admitted that the change to a free Sunday has been a positive one for the Zoo and for the community, as I predicted it would be.
The Santa Ana Zoo unfortunately has gone down the Bowers road of late.  They spent a fortune to build the Las Pampas exhibit, which is dedicated to wildlife from South America, and they added an Amazon exhibit and a bird exhibit that also weren't cheap.  Now they are talking about adding an Ocelot exhibit too.
The Santa Ana Zoo sits on land owned by the City of Santa Ana.  The land is part of Prentice Park.  In the early 1900's, J.E. Prentice moved to Santa Ana with the vision that this part of California had great possibilities. He arrived as a horse and mule trader. Mr. Prentice later began citrus ranching and expanded his holdings. Within a few years, he became one of Santa Ana's wealthiest men. In 1949, he donated 12 acres of his citrus ranch to Santa Ana for a park. With this donation, he stipulated that the city must keep at least 50 monkeys at all times.
Prentice said of the Zoo,  "I like it just like this. It's a casual little zoo…"
Well, it was.  Now it isn't – and there is no end in sight.  I fully expect that the Zoo will be charging $10 admission by next summer, while the Irvine Zoo charges $2.
Now the Friends of the Santa Ana Zoo want to take over the Zoo entirely.  I am not sure that is a good idea.  I think we might be better off combining with the Irvine Zoo into one County Zoo with two properties.  The County has already proven that they can run a Zoo for far less than what is being spent at the Santa Ana Zoo.
Then there is the diversity problem.  The Friends of the Santa Ana Zoo have a total of 26 board members, on three different boards.  Of that group two are minorities.  That's right – just two.  This has been a problem for years and it hasn't improved much at all.
The OC Parks Commission appears to be all-white too, but that is because we have an all-Republican Board of Supervisors.  Perhaps that will change if the Democrats can find someone to knock off Supervisor Janet Nguyen next year.