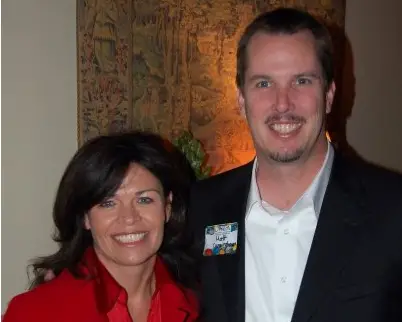 Paid Republican power couple Matt and Laura Cunningham
Did you know that paid Republican consultant Matt Cunningham is now writing so-called "community Editorials" on the Voice of OC?  That's right.  Apparently he is part of the Voice of OC's new Community Editorial Board.    I discovered this when I saw his byline on a post defending Anaheim Councilwoman Kris Murray, who got caught, by the Voice of OC, casting a City Council vote earlier this year to approve a report by a subsidiary of Willdan Group, a consulting firm that employs her as its senior vice president, city records show.
According to the Voice of OC's "About Us" page, "First and foremost, Voice of OC focuses on accountability in government, not the process of government."  And their stated mission is "To hold government agencies, elected officials and other power brokers in Orange County accountable through investigative news coverage. And to be a catalyst in the community for a robust and sophisticated discourse on local politics and government."
It is hard to imagine who Cunningham fits into that equation.  This is the guy who outed victims of molestation by Catholic priests, while he was being paid to shill for Monsignor John Urell – a man of the cloth who ran interference for molester priests.  Cunningham posted an unredacted legal document – that he should not have had access to, on the failed "Friends of Urell" website, and in the process he outed the molestation victims, whose names appeared in the court document.
Cunningham also founded the Red County blog – a website devoted to defeating Democrats and promoting Cunningham's clients and pals.
And he proudly supported the anti-gay Prop. 8 – which made gay marriage illegal in California.  The scheme was concocted to help elect John McCain, in 2008, to the U.S. Presidency.  In fact Cunningham's wife, Laura, also worked on Prop. 8, as a "Hispanic Outreach Coordinator."  It worked. Latinos and blacks voted for Prop. 8 – but then it failed as they also voted for Barack Obama, not McCain.  Laura is now the new Chief of Staff to O.C. Supervisor Bill Campbell, who is a lame duck on his last term, thank God.
If you want to know who the other members of the Voice of OC's Community Editorial Board are, don't bother wasting your time looking for this information on their website.  They have not posted the names of their Community Editorial Board.  And if you try to post a Letter to the Editor, using the form they provide, well good luck.  That doesn't work either.  If you want to post an editorial on the Voice of OC, you have to be on their Community Editorial board.
I won't bore you with the details of Cunningham's lame defense of Murray.  Instead, here is how a REAL activist, Shirley Grindle, summed up Murray's faux pas, in a comment she posted on the Voice of OC, "It is incumbent on all elected officials to be fully aware of what they are voting on in order to avoid voting on something in which they have a conflict of interest. Ignorance is no excuse!. Kris Murray should have asked the FPPC in writing whether or not she had a conflict of interest in this matter and she should have done this before voting on the Willdan issue. If the FPPC advised her that she did have a conflict, then she would have been required by law to publicly declare her conflict at the council meeting, recuse herself from voting or attempting to influence the vote, and leave the room. Maybe next time."
If anyone ought to be on the Voice of OC's Community Editorial Board it is Grindle, not the GOP paid hack Cunningham!
By the way, Cunningham isn't the only Republican throwing his weight around now at the Voice of OC.  Their Board of Directors now includes two Schwarzenegger Republicans – John Cruz and Mario Rodriguez.  But wait, it gets worse.  Bad enough that former State Senator Joe Dunn chairs their board, even though he runs a law firm in Sacramento that well, lobbies our legislators.  Their board also includes Wylie Aitken, a powerful trial lawyer who makes a living suing companies; and Robert Magnuson, a guy who gets paid to advise governments and corporations (yes, he is the 1%); Stanley Tkaczyk, a past chairman of the Orange County Waste Management Commission and past president of both the California Refuse Removal Council and the Solid Waste Association of OC – yes a rich garbage expert; and four more lawyers.   The only Voice of OC board members I can at all buy into are Daniel Weintraub and Henry Weinstein, actual journalists.
The Voice of OC has done some good work this past year, but putting the likes of Cunningham on a Community Editorial Board that is hidden from public view is not a step in the right direction.
UPDATE:  One of our readers spotted a list of the Voice of OC members in an old article of theirs.  Here are the members of the Voice of OC's Community Editorial Board:
Lucy Dunn, Orange County Business Council
Rusty Kennedy, Orange County Human Relations Commission
Jennifer Muir, Orange County Employees Association
Matt Cunningham, Pacific Strategies
Tony Bedolla, Orange County Professional Firefighters Association
Anne Olin, The Olin Group
Tefere Gebre, Orange County Labor Federation
Gene Howard, Court Appointed Special Advocates of Orange County
Dan McQuaid, OneOC
Julie Puentes, Hospital Association of Southern California
Rick Stein, Arts Orange County
Adam Probolsky, Probolsky Research
Eric Altman, Orange County Communities Organized for Responsible Development
Michael Ruane, Children & Families Commission of Orange County
Jean Pasco, the Orange County Archives
Jose Moreno, Los Amigos of Orange County host and Anaheim City School District board member
Mike Matsuda, North Orange County Community College District board member
Nick Anas, Orange County Young Democrats
Jon Fleischman, FlashReport
Ava Steaffens, KidWorks
Pam Pimentel, Moms Orange County
Rueben Martinez, Libreria Martinez
Christine Iger, Iger & Associates Government Interface Consultants
You can see that Cunningham brought along some of his GOP pals. And there are quite a few union types and insider Democrats on the list as well as a few folks from the non-profit community. I don't think paid GOP consultants and union advocates have any place on this board. But what do you expect from the Voice of OC, which was funded by the OCEA and has now been infected by Cunningham and company. Disturbing.
The article in question also states the mission of this bunch, "The vision for the Voice of OC Opinion page is to provide an online forum spurring robust debate among community leaders about the issues of the day with an aim toward finding real-world solutions to the toughest issues facing taxpayers and our collective quality of life."
Are Cunningham and his fellow paid GOP hacks community leaders? Really?
I think if I was going to put together a panel of REAL community leaders in the OC it might include:
OC activist Shirley Grindle – she wrote the Tin Cup ordinance that put limits on contributions to county politicians.  Now she is part of the Santiago Creek Greenway Alliance and is trying to finish the bike trail that runs through Santa Ana
Theo Hirsch – a Santa Ana artist who never fails to speak his mind
Retired Judge Jim Gray – a leader in the fight to end the stupid drug war and not a trial lawyer, like the stiffs on the Voice of OC's board
Jeff LeTourneau – a leader in the OC gay community, a DPOC Central Committee member and a private investigator.
John Santoianni – an Anaheim Commissioner who is also a leader in the OC gay community.  He is a past candidate for the Anaheim City Council (and would have been a heck of a lot better for the community than the tool that is Kris Murray)
Rose Espinoza – La Habra Council Member and founder of non-profit "Rosie's Garage"
Tony Bushala – founder of the Friends for Fullerton's Future blog (frankly you could take two or three of his bloggers and put them on the panel too!)
Larry Gilbert – a Mission Viejo community leader who recalled a horrible MV Council Member (who was of course an ally of Cunningham)
Jim Benson – my favorite OC Democrat and a heck of a nice guy.  He has worked on more campaigns than you can imagine.  Resident of Garden Grove.
Jan Horton – former Yorba Linda Council Member and a real progressive who manages to be sensible too.
Sean Mill – no one works harder to help the community in Santa Ana than Planning Commissioner Sean Mill – the very opposite of the limo liberals who hound him and continuously attack the Santa Ana City Council.
Hugh Nguyen – a County employee who has run for OC Clerk-Recorder and a leader in the OC Vietnamese community.
And there are so many more.  Not a one of them a paid consultant or a six figure non-profit or union executive…