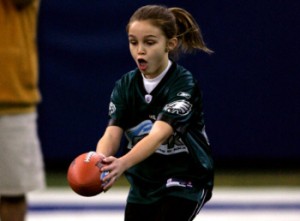 FOR IMMEDIATE RELEASE: AUGUST 12, 2011
CONTACT: JENN STARNES, 949-724-6574
Great Park to Host NFL Punt, Pass and Kick Competition
Young football fans compete for place in national contest
IRVINE –The Orange County Great Park is calling local boys and girls ages 6-15 to showcase their football talents at the NFL Punt, Pass and Kick (PPK) competition on Friday, August 19. The competition is free, but participants must register by Wednesday, August 17. The competition will be held from 11:00 a.m. to 3:00 p.m. on the new Great Park North Lawn.
Every year more than 3 million youngsters nationwide compete in the NFL Punt, Pass & Kick program. PPK offers boys and girls the opportunity to compete separately against their peers in punting, passing, and kicking contests with scores based on distance and accuracy.
Five age groups (6-7, 8-9, 10-11, 12-13, 14-15) are eligible to compete in separate boys' and girls' divisions. Participants must fill out an entry form, available through the "Sports Programs" link at www.ocgp.org/events. A valid birth certificate and parental signature are required for participation. Registrations are due by 8 p.m. on Wednesday.
The top finishers from each age group at each local competition will advance to a Sectional competition. The winners at the Sectional competition will have their scores compared with other Sectional champions; the top four scorers from the pool of Sectional champions advance to the Team Championship. Age-group champions at this level will be declared NFL Punt, Pass, & Kick Team Champions. The top four finishers in the boys' and girls' divisions within each age bracket from the pool of all Team Champions will qualify for the National Finals at an NFL playoff game in January.
All participants receive a certificate from the NFL, signed by Commissioner Roger Goodell. Prizes for age-group winners include ribbons, medals, awards and trophies.
For more information click here.
The NFL Punt, Pass and Kick Competition allows youngsters to showcase their talents in punting, passing and kicking with scores based on distance and accuracy.
A number of NFL players have competed in NFL Punt, Pass and Kick, including top former and current NFL quarterbacks such as Dan Marino and Brett Farve.
The National NFL Punt, Pass and Kick competition is administered by NFL Properties LLC. This local Punt, Pass and Kick Orange County Great Park competition is officially licensed by NFL Properties LLC, but none of the National Football League (NFL), its member clubs, NFL Ventures, LP or any of their respective affiliates or subsidiaries are sponsoring or operating the local PPK or will have any liability or responsibility for any claims arising in connection with participation in the local PPK. All NFL-related logos, marks, including, without limitation, the NFL Print, Pass and Kick logo, are trademarks of the NFL or the respective member club.
About the Great Park
The Orange County Great Park, with its 1,347-acre master plan, is the focal point of the redevelopment of the publicly-owned portion of the 4,700-acre former Marine Corps Air Station, El Toro. The Great Park features an iconic tethered helium balloon that rises 400 feet in the air, providing an aerial view of Park development. Other features include the Carousel, Farm and Food Lab, Kids Rock Playground, Palm Court Arts Complex, North Lawn recreation area, historic Hangar 244. The South Lawn lighted soccer fields and Community Garden will be added in 2012. For more information, please go to www.ocgp.org.
###