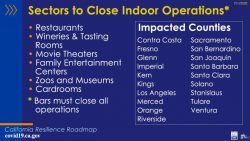 SACRAMENTO – Governor Gavin Newsom and the California Department of Public Health today released guidance directing counties that have been on the County Monitoring List for three consecutive days or more to close indoor operations for certain sectors which promote the mixing of populations beyond households and make adherence to physical distancing and wearing face coverings difficult. The guidance applies for a minimum of three weeks and is subject to an extension based on epidemiologic indicators. These sectors may modify operations to provide services outside or by pick-up. In addition, all brewpubs, breweries, bars, and pubs in these counties must close immediately, both indoor and outdoor.
Today's guidance applies to the following sectors:
• Indoor Dine-in restaurants
• Indoor Wineries and Tasting Rooms
• Indoor Family Entertainment Centers
• Indoor Movie Theaters
• Indoor Zoos and Museums
• Indoor Cardrooms
"California is seeing the virus spreading at alarming rates in many parts of the state, and we are taking immediate action to slow the spread of the virus in those areas," said Governor Newsom. "We bent the curve in the state of California once, and we will bend the curve again. But we're going to have to be tougher, and that's why we are taking this action today."
Community spread of COVID-19 continues to be a concern across the state, and in particular for counties on the County Monitoring List. This puts vulnerable populations, including older Californians and those who have chronic conditions or compromised immune systems, at higher risk of becoming seriously ill due to the virus.
"Today's action is necessary to help slow the spread of this virus," said Dr. Sonia Angell, State Public Health Officer and Director of the California Department of Public Health. "We put ourselves and our community at greatest risk for COVID 19 when we mix with people who don't live with us. And if you go out, wear a face covering, keep your distance, wash your hands frequently and limit unnecessary indoor activities that increase the risk of exposure."
Today's order applies to counties that have been on the County Monitoring List for three or more consecutive days. Combined these 19 counties represent approximately 72% of California's population.
Impacted Counties as of July 1, 2020
• Contra Costa
• Fresno
• Glenn
• Imperial
• Kern
• Kings
• Los Angeles
• Merced
• Orange
• Riverside
• Sacramento
• San Bernardino
• San Joaquin
• Santa Barbara
• Santa Clara
• Solano
• Stanislaus
• Tulare
• Ventura
Sectors included in today's guidance are all high risk of transmission due to a number of features of the businesses and the behaviors that occur within them. These sectors, foundationally, are settings where groups convene and may mix with others for prolonged periods of time often without a face covering. Additionally, physical movement within the establishment, duration of time spent in the establishment, and the degree of social mixing among individuals and groups outside one's household are all significant in these sectors, which substantially elevates the risk of transmission even where face coverings can be worn. Furthermore, in some of these sectors centered on eating and drinking, compliance with face coverings is not possible for the full duration of time someone spends in these establishments.
California will continue to update and issue guidance based on the best available public health data and the best practices currently employed. All industry or sector guidance documents that have been issued to date, including all infectious control measures outlined in those guidance documents, apply in outdoor settings, and thus must be adhered to.
Finally, as we approach the 4th of July holiday weekend, California is recommending that counties with mandatory closures cancel firework shows, and is reminding all Californians that they should not gather with people they do not live with and avoid crowds. Additionally, all parking facilities at state beaches in Southern California and the Bay Area will be closed for the upcoming weekend. In counties that close local beaches, the State will follow suit and close state beaches. Other state parks will remain open, with measures in place to reduce visitation and limit overcrowding.
More information about the state's COVID-19 guidance is on the California Department of Public Health's Guidance web page at www.cdph.ca.gov/Programs/CID/DCDC/Pages/Guidance.aspx
More information about reopening California and what individuals can do to prevent the spread of COVID-19, visit https://covid19.ca.gov/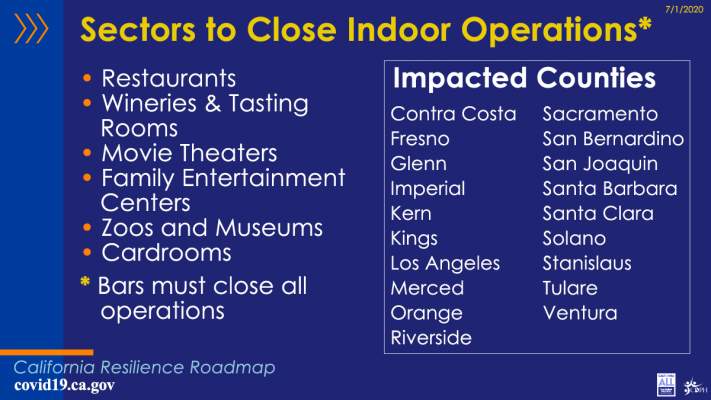 El Gobernador Ordena Que Cierren Los Bares del Condado de Orange; los Restaurantes y Ciertos Negocios Tienen Que Dejar de Operar Adentro
El gobernador Gavin Newsom ordenó hoy que todos los bares cierren y ciertos negocios, incluyendo los restaurantes, dejen de operar adentro en el Condado de Orange y otros 18 condados de California. Esto aplica a Santa Ana.
El comunicado de prensa del Departamento de Salud Pública de California con todos los detalles a continuación:
EL GOBERNADOR NEWSOM ORDENA UNA ACCIÓN ADICIONAL PARA REDUCIR LA TRANSMISIÓN COMUNITARIA
SACRAMENTO – El Gobernador de California Gavin Newsom y el Departamento de Salud Pública de California dieron a conocer hoy una guía indicando a los condados que se encuentran en la Lista de Monitoreo por tres días o más, el cierre de operaciones dentro de instalaciones cerradas en ciertos sectores que promuevan las reuniones entre personas que no viven en la misma casa y que dificulten el uso de cubiertas para la cara y el distanciamiento social. Las regulaciones estarán vigentes por un mínimo de tres días y se están sujetas a extensión, basadas en los indicadores epidemiológicos.
Dichos sectores pueden modificar sus operaciones para proveer servicios en instalaciones al aire libre o pedidos para llevar. Adicionalmente, todas las cervecerías, bares y pubs en esos condados deben cerrar de inmediato sus operaciones, en ambas modalidades, espacios cerrados y al aire libre.
Las regulaciones anunciadas hoy, aplican para los siguientes sectores:
• Restaurante que ofrecen servicio en espacios cerrados
• Bodegas de vino y salas de degustación que ofrecen servicio en espacios cerrados
• Establecimientos de entretenimiento familiar que ofrecen servicio en espacios cerrados
• Cines en salas cerradas
• Zoológicos y museos cerrados
• Salas de juegos (de baraja) cerrados
"California está viendo un alza alarmante en la tasa de propagación del virus en muchas partes del estado y estamos tomando acciones inmediatas para disminuir la propagación del virus en esas áreas", anunció hoy el Gobernador. "Ya hemos doblado la curva en el estado de California una vez y lo haremos nuevamente, pero tendremos que ser más rigurosos y es por eso que hoy estamos tomado esta acción."
La propagación de COVID-19 en la comunidad continúa siendo una preocupación a lo largo del estado, particularmente en las regiones incluidas en la Lista de Monitoreo de Condados. Esto pone a la población vulnerable, incluidos adultos mayores y aquellos con condiciones crónicas de salud o con sistema inmunológico comprometido, en un mayor riesgo de enfermarse de gravedad con este virus.
"La medida tomada hoy es necesaria para ayudar a reducir la propagación del virus", dijo la Dra. Sonia Angell, Oficial de Salud Pública del Estado y Directora del Departamento de Salud Pública de California. "Nos ponemos y ponemos en riesgo a nuestra comunidad cuando nos reunimos con personas que no viven con nosotros. Si sale, use una cubierta para la cara, mantenga su distancia, lávese las manos y limite las actividades en espacios cerrados que puedan aumentar el riesgo de exposición."
La medida de hoy aplica en todos aquellos condados que han estado en la Lista de Monitoreo por tres o más días consecutivos. Juntos, esos 19 condados representan aproximadamente el 72% de la población en California.
Los condados afectados hasta el 1 de Julio de 2020 son:
• Contra Costa
• Fresno
• Glenn
• Imperial
• Kern
• Kings
• Los Angeles
• Merced
• Orange
• Riverside • Sacramento
• San Bernardino
• San Joaquin
• Santa Barbara
• Santa Clara
• Solano
• Stanislaus
• Tulare
• Ventura
Los sectores incluidos en la guía de hoy son todos aquellos que tiene mayor riesgo de transmisión debido a una serie de características de esos negocios y los comportamientos que se presentan dentro de los mismos. Fundamentalmente, estos sectores son entornos donde diferentes grupos se reúnen y pueden mezclarse con otros durante períodos de tiempo prolongados, a menudo sin cubrirse la cara. Además, el movimiento dentro del establecimiento, el tiempo que pasa en el establecimiento y el grado de mezcla social entre individuos y grupos fuera del hogar, son muy significativos en estos sectores, lo que eleva sustancialmente el riesgo de transmisión, incluso cuando si se usan cubiertas faciales. Además, en algunos de estos sectores centrados en el consumo de alimentos y bebidas, no es posible seguir los requerimientos del uso de cubiertas faciales durante toda la permanencia en dichos establecimientos.
California continuará actualizando y emitiendo guías basadas en los mejores datos disponibles de salud pública y las mejores prácticas empleadas actualmente. Todos los documentos de orientación de la industria o el sector que se han emitido hasta la fecha, incluidas todas las medidas de control infeccioso descritas en esos documentos de orientación, se aplican en entornos al aire libre y, por lo tanto, deben cumplirse.
Finalmente, en vísperas del fin de semana festivo del 4 de julio, California recomienda que los condados con cierres obligatorios, cancelen los espectáculos de fuegos artificiales y les recuerda a todos los californianos que no deben reunirse con personas con las que no viven y evitar las multitudes. Además, todos los estacionamientos en las playas estatales del sur de California y el Área de la Bahía estarán cerrados durante el próximo fin de semana. En los condados donde se cerrarán las playas locales, el estado hará lo mismo y cerrará las playas estatales. Otros parques estatales permanecerán abiertos, con medidas establecidas para reducir las visitas y limitar el hacinamiento.
Información adicional sobre las guías estatales referentes a COVID-19 está disponible en California Department of Public Health's Guidance web page en https://www.cdph.ca.gov/Programs/CID/DCDC/Pages/Guidance.aspx
Para más información sobre la reapertura de California y que puede hacer para evitar la propagación de COVID-19, visite https://covid19.ca.gov/