The Orange County Clerk-Recorder, Hugh Nguyen, will begin performing gay marriages this Monday, during its normal business hours at its offices in Santa Ana, Fullerton and Laguna Hills offices, according to the Los Angeles Times.
Orange County will be prepared to issue same-sex licenses at its normal business hours: 8 a.m. to 4:30 p.m. weekdays at the main offices in Santa Ana, and from 9 a.m. to 4 p.m. at branch offices, an office spokeswoman said.
Gay marriage could be a huge boon to Santa Ana businesses, particularly those in Downtown Santa Ana.  Gentrification and redevelopment has already established a gay core in this area including a gay bar, the Velvet Lounge, and a new arts theater , Frida Cinema, that is slated to open up in September.
Santa Ana businesses that will benefit from gay marriage ceremonies include local restaurants and banquet halls, hotels, bakeries, and floral shops.  You have to figure that at least a few churches might end up hosting these ceremonies as well.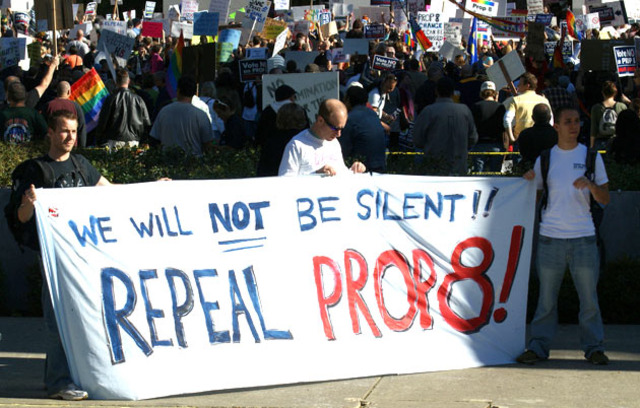 This is all quite ironic as many Latino voters in the city voted for Prop. 8 – which banned gay marriage until the Supreme Court refused to hear an appeal this week of a lower court decision that will now stand – effectively overturning Prop. 8.
The ongoing gentrification in Downtown Santa Ana has hurt the Latino community but if folks can maintain an open mind, they will now be able to increase sales by targeting the gay community.
Ironically many of the gentrifiers are working on another scheme to take money away from downtown businesses in the form of a business license fee, ostensibly to market the area and to keep it clean and safe.  But I don't think they need that money – they just need to promote the concept of holding gay marriage ceremonies in Santa Ana and then reap the ensuing windfall.
The O.C. Clerk-Recorder, Nguyen, resides in Santa Ana.  While he is a Republican he has gone on record as saying that he will obey the law and issue gay marriage licenses and perform civil gay marriage ceremonies.