Santa Ana Police Department
Advisory: SAPD Robbery Detectives Request Media and Public's Assistance in Identifying Robbery Suspect
Crime Type: Robbery
Location: 1702 North Broadway (World Oil)
Synopsis: On Saturday 7/4/15 at about 1:00 PM, the photographed suspect entered the business (World Oil). Suspect demanded money from the cash register while showing the clerk a handgun. The suspect removed U.S. currency from the cash register and fled the location on foot.
Security Camera Footage: https://www.youtube.com/watch?v=lvLm0JJm_94&feature=youtu.be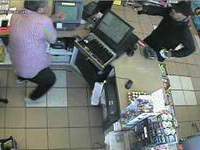 Anyone with information on the identity of the suspect is asked to contact Santa Ana Police Robbery Detective D. Aguilar at 714-245-8443 or Orange County Crime Stoppers at 1-855-TIPS-OCCS.
###