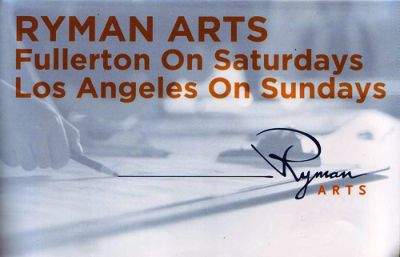 It is a real pleasure to announce that an agreement has been finalized to launch a dynamic new collaboration between Ryman Arts and California State University, Fullerton (CSUF).
Beginning in January 2013, Ryman Arts will offer classes on the campus of California State University, Fullerton on Saturdays, in addition to the current array of classes they will continue to offer at Otis College of Art & Design on Sundays.
Ryman Arts offers challenging, college-level studio art classes to talented and motivated high school students. Starting in 2013, classes will be held on Saturdays at California State University, Fullerton and on Sundays at Otis College of Art and Design. Each student who is accepted receives a full scholarship, which includes tuition, art supplies and field trips.
We had to hold off sending out this information until we could officially share the news. In light of that delay, Ryman has extended their application deadline to December 14th. Please have your students apply right away!
Classes begin at Cal State University, Fullerton on Saturday January 5, 2013 and Ryman can accommodate up to 60 new students.
If you have some especially talented and motivated students who live to draw, please encourage them to apply for Ryman's program. They won't just improve their drawing and painting skills; they will gain a level of confidence that will benefit them whatever their college and career path. To apply, students need to submit:
Two pencil drawings done from observation
A short essay
A completed application form
All students who will be in high school this January are eligible to apply. To see examples of Ryman students' artwork and to learn more about the Ryman program, visit their website at rymanarts.org. If you have any questions or comments, please don't hesitate to contact the Ryman offices at (213) 629-2787.
With this initiative, Ryman will double their capacity and can serve young artists from a much wider geographical area, making the program more accessible to many more talented high school artists across Southern California. Ryman Arts students will have the opportunity to draw and paint in the outstanding art studios of CSUF College of the Arts on one of the most diverse public university campuses in the country, and take advantage of the dynamic Grand Central Art Center with its many opportunities for community arts engagement and outreach. In turn,this experience will build a pathway to higher education for participating students that may lead to future study at CSUF. We know how powerful the creative learning environment has been for our teens at Otis, and we are delighted that we now offer classes at both an independent college of art and design and a large public university with a major art school.
Click here for the Ryman Arts application form. If you need additional copies, you may photocopy the application form, download it from their website (www.rymanarts.org), or pick one up in person at Grand Central Art Center (125. N. Broadway, Santa Ana, CA).
Grand Central Art Center
a unit of Cal State University Fullerton's College of the Arts
125 N. Broadway
Santa Ana, CA 92701
t. 714.567.7233
w. http://www.grandcentralartcenter.com
Blog. http://grandcentralartcenter.wordpress.com
fb. https://www.facebook.com/pages/CSUF-Grand-Central-Art-Center/44510429914