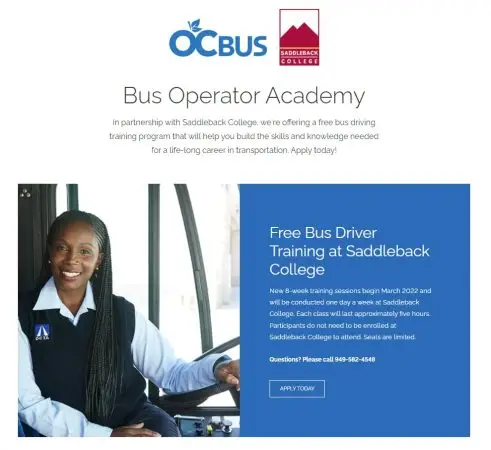 Saddleback College is ready to start cohort 7 of the Free Bus Operator Academy Training Program on August 12, 2023. Saddleback College and OCTA have partnered to develop career opportunities for underemployed, unemployed, and underrepresented OC residents.
Saddleback College has been awarded a small grant from the OC Community Foundation to develop a Bus Operator Training Academy to create a skilled talent pipeline for OCTA. The grant pays for the cost of training so there is no cost to interested participants.
The starting wage has been increased to $21.51 per hour. Drivers can earn a $3,000 hiring bonus!
You can learn more about this at this link.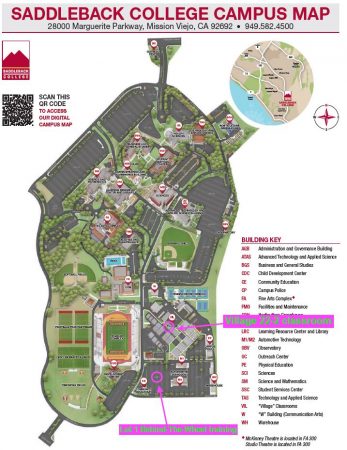 The training is an eight-week training program and will be held on Saturdays from 9:00 AM to 2:00 PM at the Saddleback College campus in Village 22-2 located in the "Village" Classrooms across from the football stadium.
Behind-The-Wheel training will occur from 2:00 – 5:00 PM in Parking Lot #1. Training participants may park in any open parking space except Parking Lot #1 as it is reserved for the Behind-The-Wheel training.
Click here for online college maps and directions.
Qualified participants who complete the training program are guaranteed an interview as an OCTA bus driver. As part of the program, participants will have the opportunity to work directly with OCTA to prepare them for the application and interview process. 
Make your own path at OCTA. More than 80% of the OCTA bus operations management team began their careers as OC Bus Drivers.