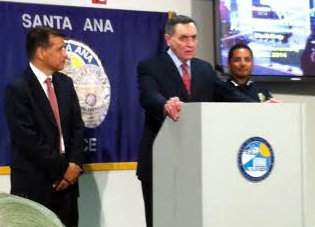 Evidence Based Inc., a private Irvine-based company that provides risk-assessment services to courts, police agencies and municipalities, has hired Paul Walters, the former Santa Ana police chief as its executive vice president, according to the OC Business Journal.
Walters retired last year after serving in the role of police chief since 1988. During his tenure, he was recognized by President Bill Clinton for "community policing innovations," as well as by President Barack Obama and Secretary of Defense Robert Gates, California Attorney General, the Governor of California, the U.S. House of Representatives and the U.S. Senate and the Orange County Board of Supervisors.
Walters served as Santa Ana's Chief of Police from 1988 to 2013 and was also concurrently City Manager from 2011 to 2013. During his tenure as Chief, Santa Ana grew from 293,000 people to 335,000 people, yet the crime rate fell to its lowest level in nearly 40 years despite budget cuts decreasing the number of police officers from 359 down to 320, according to Orange County Supervisor Todd Spitzer.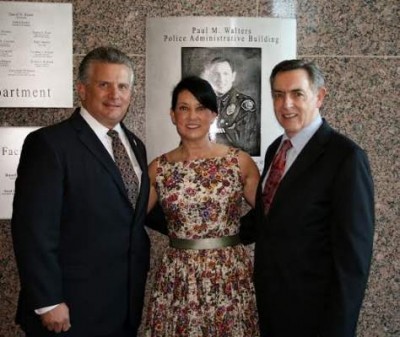 "Chief Walters' extensive experience and knowledge as the longest-serving chief in a major city in modern U.S. history brings a unique expertise to our team," John McLaughlin, Evidence Based's president and chief executive, said in a news release. "Those skills will prove invaluable to us as we seek to create safer environments on school campuses."
McLaughlin referred to the company's new campus security program, which provides schools with campus security officers to augment their existing safety personnel, as well as mental health resources and other services.
The executive vice president position is new, created for Walters so that "he could become a part of the EBI team," according to the company.
Evidence Based assists governments and municipalities with anything from emergency response systems to social services. They can assist with legal process outsourcing, pre-employment screening, law enforcement oversight reviews, digital forensics…or any number of other offerings.
A veteran of the United States Air Force, Walters earned his Bachelor of Arts in Criminal Science from California State University, Fullerton, Master of Public Administration from the University of Southern California, and Juris Doctor from the American College of Law. His son Gary is a Captain with the Los Angeles Police Department, son Michael is a Deputy with the Orange County Sheriff's Department, and daughter Dani is a junior high school teacher in Hawaii.