A group of 15 former Santa Ana firefighters who now work for the OC Fire Authorityat Station 45 in Rancho Santa Margarita designed a t-shirt to raise funds for a memorial was intended to express pride in their own team, but now it's being criticized as insensitive, according to ABC News.
The T-shirt shows Fire Engine 45 surrounded by figures with baggy clothing, a pit bull, a tamale stand, with a caption that reads: "There goes the neighborhood," with "Rancho Santa Ana" written on top.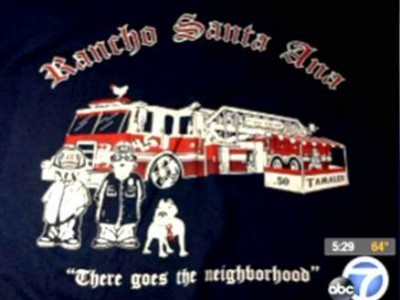 OCFA Fire Chief Keith Richter explained that each image carries a memory for Santa Ana firefighters.  For instance, he says, the chicken was kept as a pet.  Tamale vendors would sell to them every day.  The "Lil Homies" are figurines commonly sold in Santa Ana and several Santa Ana stations would display them and write names of firefighters who reminded them of a particular figure.
The Santa Ana Fire Department was outsourced to the OC Fire Authority by former City Manager Paul Walters.  That move saved the City of Santa Ana from going bankrupt.  But it was a tough pill for some of the firefighters to swallow.  While some of them were happy to get out of town, others were upset to lose some of the perks they had while operating as a City Fire Department.
ABC7's Eileen Frere reported that the idea for the imagery came from a former Santa Ana firefighter "who happens to be Hispanic."
That led the OC Weekly's Gabriel San Roman to comment that "since the only way Mexicans are accepted in the city is if they mock themselves, those bomberos had to step up their game, you know?"
So are these former Santa Ana firefighters racists or just insensitive?  And how do the remaining firefighters in town feel about our city and our residents?