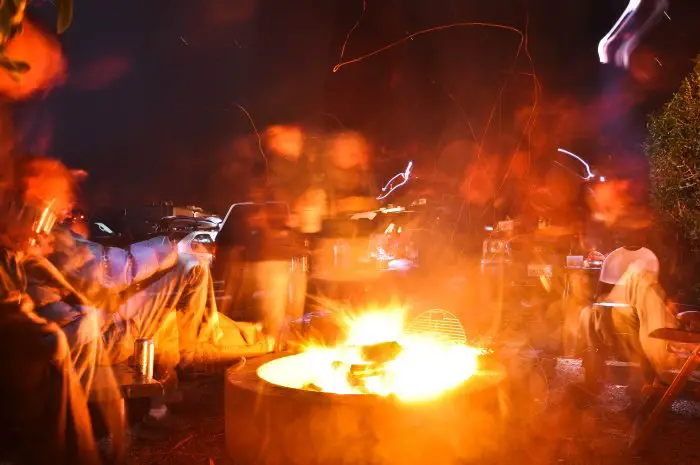 How would you like to enjoy a campfire right here in Santa Ana?  Well, this Friday, on September 4, is your chance!
Join the good folks from Naturalist for You from 7:30 pm to 9:30 pm, for an evening around the campfire with storytelling, music, or a natural history presentation.
Who: All ages (Minors must be accompanied by parent or guardian.)
Where: Meet at Santiago Creek Wildlife & Watershed Center parking lot within the Santiago Park Nature Reserve, E Memory Ln, Santa Ana, CA 92705, (714) 647-6902. Where E Memory Lane curves north to Parker St, look for the small driveway with large boulders and a green nature center building on the east side. Parking is free.
Special Supplies: Food (marshmallows, chocolate bars, graham crackers, hot dogs, hot cider, hot cocoa, etc.), skewers, warm blankets, portable seat cushion, flashlight. Special Instructions/Supplies: Please arrive at least 15 minutes before start time. Bring a minimum of 1 quart (32 oz) of water per person. Bring snacks and/or full meal.
Wear weather protection (jacket, hat, sunglasses, sunscreen, etc.), durable hiking socks and close-toed hiking shoes (extra pair for wet tours), long pants, and backpack for snacks. Bring swimsuit and towel for wet tours.
Bring first aid kit (Band-Aids, antiseptic, allergy medicine, tweezers, etc.) and cell phone. Bring flashlight/headlamp and layered clothing for evening tours. Walking sticks are recommended for tours with stream crossings or uneven terrain.
RSVP: Please email jrobinson@naturalist-for-you.org or call 714-639-8480. Please leave your name, contact information, and total # in your party. See the Naturalist for You website for upcoming tours