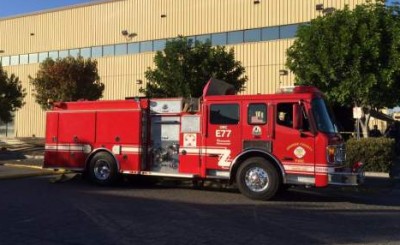 It took fifty five firefighters from the O.C. Fire Authority and the Garden Grove, Huntington Beach and Fountain Valley Fire Departments forty minutes to put out a fire today at Aluminum Precision Products, an aluminum manufacturing business located at the 2600 block of South Susan Street in Santa Ana, according to the OCFA's Twitter page.
They were called in today at 2 p.m. after a fire was caused by an equipment failure near a forging press machine, according to the O.C. Register.  Apparently the machine caught fire and the blaze spread very quickly to the roof, where a sprinkler system was activated. Reportedly an oily residue kept igniting the fire on the ceiling according to the OCFA.
Damage was estimated to be about $50,000.
Aluminum Precision Products specializes in closed die aluminum and titanium forgings, machined and finished components and assemblies, and aluminum open die ("hand") forgings. Their markets include every major aircraft/aerospace manufacturer in the world, automotive O.E.M. and after-markets, recreation, industrial, medical equipment, and others
No one was injured in the blaze. About fifty employees were able to exit the building safely. An OCFA hazmat crew was able to contain the runoff mixture of water and chemicals – which would have posed a threat to the environment had it made it to the storm drains.
The business may remain closed on Thursday. This incident should be covered by their property insurance policy. Their insurance policy may also provide funding for the business interruption and the repairs needed after the fire.