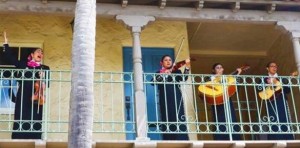 It is not too late to book a reservation for a nice Father's Day Brunch, Lunch or Dinner here in Santa Ana.  Here are a few specials that have come our way –
Father's Day Champagne Brunch – with a live performance by an all-female Mariachi band, at the Green Parrot Villa, on Sunday from 10 am to 3 pm.  Call  714-569-1970 to make your reservation today.  Located at 2035 N. Main St., in Santa Ana, across the street from the Bowers Museum.  Free public parking on the north and south side of the restaurant.  Adults $17.95 and kids $11.95.
Father's Day Brunch at Chapter One: the Modern Local.  10 am to 4:30 pm. Come treat your old man to a day of killer Brunch creations, $6 Bottomless Mimosa Flights, live music and most importantly…We are buying your dad a beer!
Father's Day Brunch at the Elks Lodge.  

Seating Times: 10:30, 11:30, 12:30. Brunch Ends At 2 pm. 

Reservations Requested. Call Elks Office: 714-547-7794, Ext 101. $25 includes champagne. Located at 212 Elks Lane in Santa Ana.  (714) 547-7794.

Father's Day Putting Contest and Barbecue. Santa Ana-Tustin Rotary Club. June 20, 2013 @ 12:00 pm – 1:15 pm. WHERE: Tustin Ranch Golf Club, at 12442 Tustin Ranch, in Tustin.  Only $20.  714.539.0251.
Father's Day Brunch and Dinner at Royal Khyber

, featuring cuisine from North India.  Brunch from 11:30 am to 2 pm.  Champagne – add $5.25.  Kids 12 and under, 40% off. Dinner from 5:30 to 9:30 pm. For reservations call 714-436-1010.

Lunch or Dinner at Black Angus.  Try the Steak and Shrimp 2 Ways Trio for only $16.99.  Coupon available on Facebook.  Also, the Campfire Feast Dinner for two for only $39.99.  Located at 1350 N. Tustin Ave., in Santa Ana.  (714) 558-3057.
Father's Day Breakfast and Dinner at Hometown Buffet

.  Featuring Rancher's Select Sirloin, Made-to-order Omelets, Carved Ham, Butterfly Shrimp, Baby Back Ribs, and more.  Located at 1008 East 17th St. in Santa Ana. (714) 541-3020.

Grilled Pollo! Get a free 2 Liter Soda with purchase of a Family Pack at El Pollo Norteno.  Two locations in Santa Ana.
Spend Father's Day at the Bowers Museum! Enjoy a special Father's Day lecture "Hollywood's Living History Book" by Norman Lloyd who has worked in show business for 80 years and who has worked with stars including Charlie Chaplin, Alfred Hitchcock, and more! Also join in a Father's Day Drum Circle at the Kidseum and the Father's Day BBQ at their award winning restaurant, Tangata. View more information at their website.
This Father's Day, let Morton's do the grilling. Join us for a mouth-watering 3-course meal for only $69 per person. Reserve your table today.  Address: 1641 W. Sunflower Avenue, in Santa Ana.
Lyon Air Museum, located at 19300 Ike Jones Rd., in Santa Ana. Museum hours: 10 a.m. – 4 p.m. Admission: General $12; ages 5-17 $6; 5 and under free.Is your dad an aviation buff? If so, we've got the perfect plan for you! Lyon Air Museum, located at John Wayne Airport, has a unique collection of authentic aircraft, rare vehicles and memorabilia, most of which are from World War II.