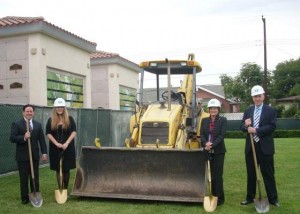 FAIRHAVEN MEMORIAL PARK BREAKS GROUND ON ETERNAL SPRINGS CREMATION GARDEN
3,800 square foot project to employ flowing stream, bridges and lush landscaping features
SANTA ANA, Calif. – Sept. 12, 2013 – Fairhaven Memorial Park has broken ground on Eternal Springs, an expansion of the Santa Ana Memorial Park designed to provide a peaceful, contemporary environment for families to visit their loved ones and find comfort. The 3,800-square-foot cremation garden will employ a flowing stream, rustic bridges, lush landscaping and rock features to evoke the peace and tranquility of a mountain stream.
"Eternal Springs will be a place of great natural beauty and peace, where families can pay tribute to their loved ones amid lush vegetation, meandering paths and flowing water," said Marla Noel, president of Fairhaven Memorial Park. "We believe that nature possesses the power to heal, transform and renew and we celebrate its abundance through this project."
Central to Eternal Springs' natural beauty will be the use of cremation boulders, which hold the remains of loved ones and serve as a memorial to their life. The boulders will be placed throughout the garden as a final resting place for families to visit.
The project, which will feature lush, water-efficient landscaping, includes the following features:
· A flowing water feature spanning the entire length of the garden
· Three bridges crossing the water feature composed of rocks to evoke memories of a mountain stream
· Abundant trees to offer shade, accompanied by shrubs and ground cover, with cremation boulders placed amid the landscaping to create a strikingly natural look
· Three park benches to offer a place of rest and reflection.
Eternal Springs, which is slated for completion in early 2014, will be located adjacent to the Bella Vista Mausoleums on the north side of the park. The project continues an expansion process that has seen Fairhaven Memorial Park develop four acres of adjacent land across Fairhaven Avenue.
About Fairhaven Memorial Park
Founded in 1911, Fairhaven Memorial Park is Orange County's most beautiful independently owned and operated full-service mortuary, crematory and cemetery. Fairhaven provides funeral, cremation and burial services both at the time of need and through advanced planning, maintaining its steadfast commitment to care and compassion. Fairhaven is dedicated to celebrating the individual, providing services that are as unique and wide-ranging as the people they celebrate. Additional information is available at www.fairhavenmemorial.com.
# # #