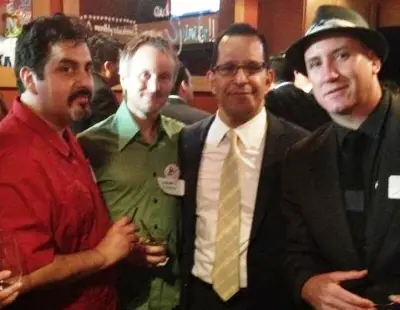 Santa Ana Ward 3 candidate Eric Alderete is hosting another fundraiser – but this time it is going to be held in Los Angeles, not in Santa Ana, at the offices of mega-corporate law firm DLA Piper.
Here are the event details, courtesy of Facebook:
Please join Team Alderete at the next fundraiser in downtown Los Angeles on Wednesday, August 15th. We'll be joined by attorneys from large law firms, small law firms, non-profits and in-house counsel who practice in the Valley, the Eastside, Westside, Mid-Wilshire, downntown and Orange County. I hope to see you from 6:00 PM to 8:00 PM at the offices of DLA Piper located at 550 South Hope Street, Suite 2300, Los Angeles, California 90071.
Alderete is himself a successful lawyer for a national bank so it should not come as a surprise that he is getting support from other corporate lawyers.
Let's be honest – Alderete's competitors aren't going to be able to contend with him when it comes to raising money – but candidates haven't always been able to spend themselves to the top in Santa Ana.
People vote for candidates for many reasons.  Alderete appears to be in the catbird seat if in fact he ends up being the only Latino running for Ward 3, but he does have to beat the rest of the Ward 3 candidates, including a popular former Councilman, Brett Franklin; a GOP insider in Charles Hart; a police officer and neighborhood leader in Shane Ramon Barrows; and a whack-job who actually has gotten himself elected once before – Steve Rocco.
Will some Santa Ana voters be turned off by a liberal candidate who raises campaign money in Los Angeles and who, despite his blue collar upbringing is now a member of the 1%?  I guess we'll find out in November.