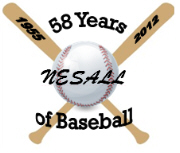 Northeast Santa Ana Little League (NESALL) 2012 Fall Ball/Training and Development Season (TAD)
Registration closing soon! We are looking to have all teams filled up and begin practicing by Saturday August 18, 2012. 
If you are interested in signing up your child, please send an email to nesallpresident@gmail.com.
Fee: $75 per player ($10 sibling discount).  Players will be placed on teams based upon their age on April 30, 2013 and are encouraged to play up a division from where they played in the spring.
Planned Divisions of Play:
T-Ball
Rookie
Machine Pitch ("A")
"AA"
"AAA"
Majors
50/70
Juniors
Practice begin first week of August 2012. Season set to begin September 8, 2012 and runs through November 3, 2012. Games primarily played on Saturdays.