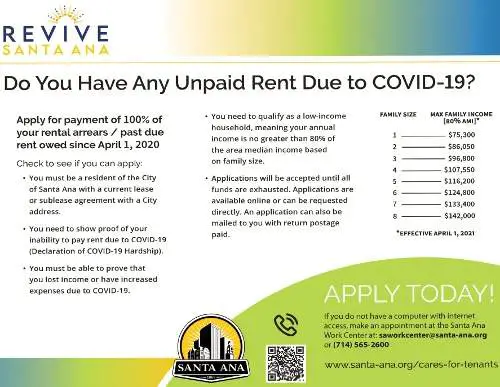 APPLY NOW FOR EMERGENCY RENTAL ASSISTANCE TO COVER 100% OF YOUR PAST-DUE RENT OWED SINCE APRIL 1, 2020, FOR LOW-INCOME FAMILIES IMPACTED BY COVID-19. Applications are available on the Santa Ana CARES for Tenants webpage at www.santa-ana.org/cares-for-tenants or can be requested directly from Latino Health Access at (657) 229-5450 or LHARent@latinohealthaccess.org.
To reach more families in need of emergency rental assistance, the City is partnering with Latino Health Access (LHA). Their outreach efforts are specifically intended to reach and engage households most financially impacted by the COVID-19 pandemic and that may not have already applied to the City's CARES for Tenants Program due to lack of awareness of the program, misinformation about program eligibility requirements, or difficulty accessing or continuing the application. Residents of Santa Ana can connect with LHA through:
Flyer distribution by LHA's community outreach team in key locations within central Santa Ana neighborhoods in partnership with active resident groups and volunteer tenant counselors trained in outreach strategies.
Door-to-door flyer distribution by LHA's community outreach team. Door-to-door flyer distribution will be taking place in the areas that have had the highest number of COVID-19 confirmed cases.
Phone calls to a database of over 6,000 Santa Ana residents.
Seven (7) virtual informational workshops via the Zoom online platform. The dates and times of the workshops are posted on the City's webpage.
Six (6) in-person informational workshops in collaboration with Santa Ana school-parent groups at Latino Health Access, Familias Corazones Verdes "Greenheart Families" Park & Community Center, and other sites identified in partnership with the City, school district, and community partners.
Social media posts on LHA social media sites including Facebook and Instagram
The City is looking forward to working with Latino Health Access in an effort to inform as many Santa Ana residents as possible about the CARES for Tenants Program. Ultimately, we are hopeful that these outreach efforts will increase the number of Santa Ana residents that receive emergency rental assistance.
If you do not have a computer with internet access or need assistance submitting an application, please contact the Santa Ana Work Center at (714) 565-2600 or by email at saworkcenter@santa-ana.org to schedule an appointment. Assistance is available by appointment only. Applications can also be mailed to you with return postage paid.
FOR TENANTS FACING EVICTION – Apply now for emergency rental assistance at the link above or go to www.santa-ana.org/SAVES to learn more about the SAVES Program and submit a pre-application. Families at risk of eviction can also call 2-1-1 or go to santaana.211oc.org to start the application process today. Santa Ana residents impacted by the Coronavirus who are behind on rent and facing eviction within 21 days can apply for up to 12 months' rent (which includes up to six months' rental arrears since April 1, 2020) and receive free legal and mediation services.
Asistencia de Emergencia para la Renta Está Disponible
Translations: 
Hỗ trợ cho thuê khẩn cấp có sẵn