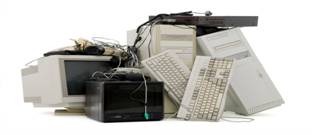 On February 2, 2013, Heroes Elementary will be having an Electronic Waste Recycling Event as a fundraiser for the school. Those who wish to help can bring by old computers, printers, monitors, cell phones, televisions, small appliances, or other electronics. Anything that plugs into a wall or runs on batteries will be accepted, and the more is collected, the more the school makes.
Those who wish to drop off material only need to load it into their car and drive through the school parking lot. All Green Recycling employees will remove the material from the car for them and get them quickly on their way.
Heroes Elementary School is located at 1111 West Civic Center Drive, in Santa Ana, CA 92703.  This event is set for February 2, 2013, from 9am-2pm.