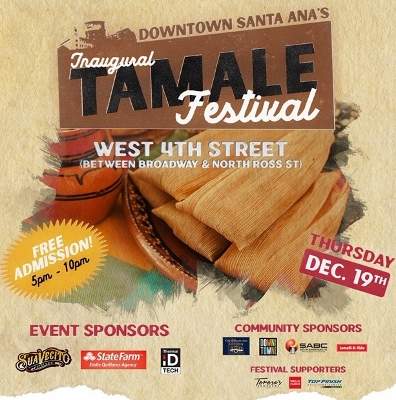 Tis the season for tamales! Downtown Santa Ana invites you to the Inaugural Tamale Festival, also known as a Tamalada, on Thursday, December 19, 2019.
The festival, which is co-sponsored by the City of Santa Ana, will take place from 5 to 10 p.m. on West Fourth Street between Ross and Broadway streets.
Bring your hearty appetite to the Tamale Fest because there will be a variety of scrumptious tamales provided by: El Indio, Chevita's, Latino Health Access, Café Cultura, Chapter One, La Vegana Mexicana and Palapas.
The event is free and open to the public.
Live entertainment will begin at 5 p.m. with DJ Allierockk, followed by Trio Salazar, Mantra (Tribute to Mana) and Mariachi Perla. Beer Garden sponsored by The Frida Cinema and operated by The Mission Bar.
Live Entertainment
• DJ Allierockk – 5 p.m.
• Trio Salazar – 5:45 p.m.
• DJ AllieRockk – 6:30 p.m.
• Local Schools – 7:30 p.m.
• Mantra (Tribute to Mana) – 8 p.m.
• Mariachi Perla – 9 p.m.
The festival is sponsored by the City of Santa Ana, Eddie Quillares Jr State Farm Insurance, Suavecito, Thermal ID Tech, Downtown Inc., Santa Ana Business Council, SVN Vanguard, Dr. Lomeli & Kids, Teresa's Jewelers, Wells Fargo, Top Finish Collision Center, Dignity Health, The Frida Cinema, and Cabral Law Group.
For more information, visit www.facebook.com/events/460926891226157/ or on Instagram @DTSATAMALEFEST.