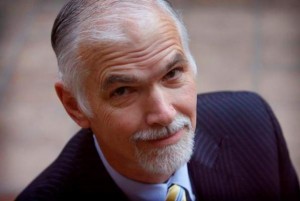 The Santa Ana Unified School District (SAUSD) has finally settled on a new Superintendent, hiring a guy in his 60's, Dr. Rick Miller, away from the smaller Riverside Unified School District.
So what do we know about Miller? According to his official bio, he only worked at the Riverside Unified School District since 2009.  How long before he ditches the SAUSD – after forty years in education he is surely going to spike his pension at our expense!  Keep in mind the fact that he ditched the Oxnard School District after only four years too, according to his LinkedIn Page.  And he only lasted two years at the Kelseyville Unified School District!
He is fixated on  bringing digital technology into the classroom, according to the Press Enterprise.  You can see more evidence of Miller's tech fixation on his Twitter Page, where he also admits to being a fan of Meg Whitman (ugh!).
Perhaps Miller is not keeping up with the news? "More than 300 students at three Los Angeles Unified high schools bypassed security measures to access unauthorized websites on their new district-issued iPads, prompting an immediate ban on taking the tablet computers home, officials said today," according to the Los Angeles Daily News.
The Los Angeles Unified School District approved spending $30 million in bond revenue to buy iPads for students and faculty at 47 schools. The remaining campuses are expected to have the tablets by this time next year — in time for the implementation of new English and math standards that rely on technology for student assessments.
How soon before Miller is pushing for another tech bond here in Santa Ana?  I bet most 8th graders can already run circles around this guy.  He entered college in 1966 – a year before I was born!  But it won't be long, I am sure, before he is clamoring to raise our taxes in the name of tech.
But we all learned without pads, didn't we?  My oldest son earned the highest GPA in the SAUSD a couple years ago and he is now at UCLA.  Sure, we equipped him with computers but he learned the traditional way and even taught himself to play two musical instruments – and he played in the Godinez Fundamental High School jazz band.
There are already reports that the new Common Core curriculum is a total failure and kids in the 4th grade are getting lost in math class.  How is tech going to fix that disaster?
Here are a few links where you can see what Miller has to say about education: