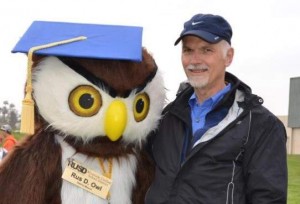 FOR IMMEDIATE RELEASE
Rick Miller, Ph.D. New Superintendent of Santa Ana USD
SANTA ANA, CA – September 24, 2013 – After conducting a nationwide search, the Santa Ana Unified School District Board of Education has appointed Rick Miller, Ph.D., as its new superintendent. "Our community demanded that this Board find a proven leader that would have a genuine commitment to the success of the students and families of Santa Ana. I believe that we have delivered with the appointment of Dr. Miller," said Board President José Alfredo Hernández, J.D.
Dr. Miller brings 40 years of educational experience to Santa Ana, including twenty-two years as a superintendent in both California and Idaho. For the past five years, he has served as superintendent for the Riverside Unified School District. He holds four academic degrees including a Ph.D. in education; Ed. Sp. (Education Specialist) in educational administration; M.Ed. (Masters in Education) in educational administration and higher education; and a Bachelor's degree in chemistry. He has also authored several articles and presented at state and national conferences.
When asked about his appointment, Dr. Miller stated, "I am excited to take on this new challenge and look forward to working together with the Santa Ana Unified School District Board of Education, staff, students and parents to provide students with the best possible educational foundation for their futures."
Under his leadership, the Riverside Unified School District became a national leader in instructional technology and earned the title of World's Most Intelligent Community. During his time in Riverside, student achievement increased with 27 schools meeting and exceeding the state API target of 800 and three schools crossing the 900 mark.
Dr. Miller's experience inside the classroom includes serving as a teacher at the elementary and secondary levels and as a university adjunct professor. He has also worked as an elementary and high school principal. Dr. Miller has focused his career on school reform and raising student achievement in diverse settings. He has also worked to build collaborative environments within school districts. Dr. Miller is co-founder of the Mountain West Superintendents Roundtable, a regional superintendent think tank, and serves on a number of state and national advisory boards.
"Our goal in Santa Ana Unified is to provide students a world class education that ensures they are prepared for college and career. Dr. Miller understands that and is ready to work collaboratively with all of the stakeholders in our community to reach this goal for the benefit and success of our students," said Hernández.
The Board of Education undertook a comprehensive search process to appoint a new superintendent. The search consultants interviewed community leaders and employees to develop the desired profile for the new superintendent. The Board is appreciative of the community's willingness to provide valuable input to the selection process.
Please direct all media inquiries to Deidra Powell, Chief Communications Officer at (714) 558-5555 or deidra.powell@sausd.us.
###
Contact: Deidra Powell-Williams, Chief Communications Officer, (714) 558-5555