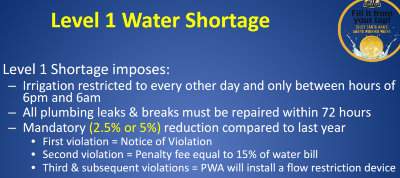 The City of Santa Ana announced this week that "under their approved emergency water regulations, they have declared a Level 1 Water Shortage. This means every municipal water user must reduce their consumption by 3 percent compared to their usage during the same time period last year. Failure to achieve the 3 percent conservation reduction the first time will result in a warning to increase your conservation efforts. Continuous failure to conserve may result in a 15 percent penalty on your water bill.
The City has made the information about their water regulations readily available online.  However according to the City's Water Conservation Ordinance No. NS-2781, which was passed by the City on April, 20, 2009, the City was also supposed to:
When a water shortage appears imminent, the City Manager notifies the City Council and recommends holding a public hearing for the purpose of determining whether a water shortage emergency exists. If the City Council determines that a water shortage exists, it then makes the decision as to the appropriate phase of the Ordinance to implement."
I don't recall that the City of Santa Ana ever held a public hearing to determine if a water shortage emergency exists, do you?  At least one resident is wondering if the City is misleading the public to believe that the regulations they have imposed are mandated by the State of California.  Could Santa Ana City Manager David Cavazos be using the City's extreme water regulations to fill the City's coffers – when and if the City starts penalizing us for not complying?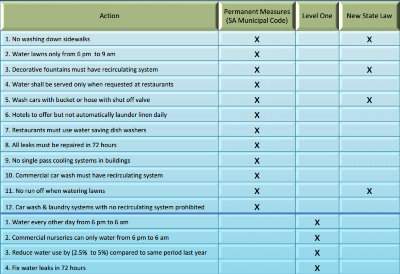 The City of Santa Ana and the Orange County Water District (OCWD) are hosting a Water Forum on October 30, 2014, from 6:30-8 pm.  But that is not a public hearing.
The water forum will include conservation tips, rebate information, water contamination update, OCWD expansion and the future of water resources including desalination.
To attend the water forum on October 30, the city says you have to first register by visiting www.ocwd.com/watersupplyseries.
Additional Information and Offers: