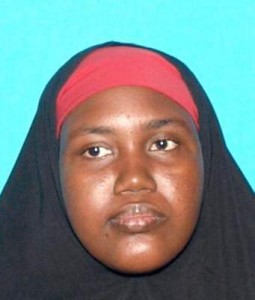 Orange County Sheriff

MISSING PERSON BULLETIN – Developmentally Disabled Adult

On November 14, 2013, at approximately 1:10 pm, Fowziya Omar Igalle walked away from family members in the area of Cerritos and Gilbert in the city of Stanton, California. Ms. Igalle has the mental capacity of a 4-year-old child. She does not speak English and speaks very little of her native language. She was wearing a black headdress, a green dress, and yellow sandals.

NAME: Fowziya Omar Igalle

DESCRIPTION: Female, Somalian, date of birth: 1/1/87, brown eyes, black hair, 5'5", 180 lbs.

CLOTHING: Black headdress, green dress, yellow sandals

LAST SEEN: November 14, 2013 @ 1:10 pm on foot

Anyone with any information regarding Ms. Igalle's whereabouts is asked to call the Orange County Sheriff's Department at 714.647.7055

or 714.647.7000 .