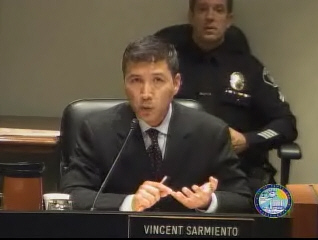 FOR IMMEDIATE RELEASE: September 13, 2012
CONTACT: Karia Salazar, PHONE: (714) 623-7185, EMAIL: salazar_karia@yahoo.com
The Democratic Party of Orange County Endorses Councilman Vincent Sarmiento to Represent Santa Ana City Council – Ward 1
Santa Ana, California – Vincent Sarmiento has received the endorsement from the Democratic Party of Orange County for Santa Ana City Council's Ward -1 seat.
The Democratic Party of Orange County represents democrats in the fifth largest county in the nation. The party believes Councilman Sarmiento is the best and most capable candidate to represent the residents of Santa Ana.
"The Democratic Party of Orange County is proud to endorse Councilman Vincent Sarmiento," said Nick Anas, Executive Director of the Democratic Party of Orange County. "We are excited to help Mr. Sarmiento move Santa Ana forward and get him re-elected this fall."
Vincent and his family have lived in and around Santa Ana since 1965. He attended John Muir Elementary, Sierra Elementary, and Willard Intermediate Schools. Vincent now lives in a 1929 historic home in the Saddleback View neighborhood; three blocks from where he grew up. Presently, Vincent is the principal owner of a law practice in Santa Ana, with his wife, Eva, also an attorney. They have three children, ages 13, 10, and 7, whom they hope will learn the value of public service and contributing to their community.
###