As the stumbling "Santa Ana Spring" movement continues to unimpress, one factor we have not yet considered is the cultural disparity of the Council Members who are backing David Benavides for Mayor of Santa Ana.
Several of the current Council Members are Mexican immigrants – chief among them Mayor Miguel Pulido and Mayor Pro Tem Claudia Alvarez.  This is one of the reasons they have so much support in Santa Ana – a city dominated by Mexican immigrants and their families.  Many of these immigrants have, like Pulido and Alvarez, become citizens but they continue to value their culture and heritage.
Benavides, on the other hand, and his number one Council ally, Michele Martinez, were born here.  Benavides hails from East Los Angeles, according to his bio.  Martinez was raise here in Santa Ana, but apparently wasn't born here as that information is absent from her own bio.  But she most certainly was born somewhere in the U.S.
Pulido and Alvarez speak excellent Spanish to this day.  Benavides and Martinez, on the other hand, speak Pocho Spanish.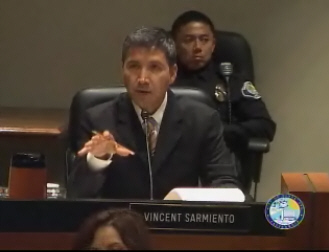 What about the other Council Members?  Vince Sarmiento was born in Bolivia.  His family came to Santa Ana in 1965, according tohis bio.  Why did they leave Bolivia?  Well, the CIA was very active in Bolivia circa 1965, according to online reports, due to a leftist insurgency.  "In 1964, a military junta overthrew President Estenssoro at the outset of his third term. The 1969 death of President René Barrientos Ortuño, a former member of the junta who was elected president in 1966, led to a succession of weak governments. Alarmed by the rising Popular Assembly and the increase in the popularity of President Juan José Torres, the military, the MNR, and others installed Colonel (later General) Hugo Banzer Suárez as president in 1971," according to Wikipedia.
It would be interesting to find out what drove the Sarmiento family to leave Bolivia.  Apparently they came here with money as they bought the Festival Hall and Sarmiento ended up going to U.C. Berkeley and becoming a lawyer.  This year he has been trying to help his fellow Bolivians to get a float in the next Rose Parade, according to the O.C. Register.
Apparently Sarmiento put up Benavides as a mayoral candidate this year knowing he would lose – with the thought that Benavides would be his trial balloon and that he would hopefully weaken Pulido so that Sarmiento can run for Mayor in 2014.  However I would be stunned if a Bolivian-American could beat a successful Mexican-American like Pulido, in Santa Ana.  I don't think it is possible.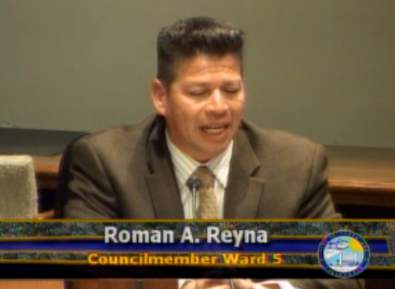 As for the other Council Members and Council Candidates in the Benavides cabal, Sal Tinajero was born and raised in Santa Ana, according to his bio.  And I believe that Council Candidate Eric Alderete was born in East Los Angeles, like Benavides.  Council Candidate Roman Reyna lists Santa Ana as his hometown, on his Facebook page.  I have not heard Alderete speak Spanish but I would imagine that Reyna, like Benavides and Martinez, is fluent in Pocho Spanish.
Pulido will be in his element at this weekend's Fiestas Patrias and his new Facebook page is quickly garnering support from all corners.  His campaign has the momentum and you just have to wonder if Benavides' stumbling "Pocho Revolution" is going to go anywhere.  I doubt it.  But Sarmiento was right – Benavides will be a pain for Pulido this year.  Fortunately for Pulido, Benavides is up for re-election in 2014.  Those two years will pass by very quickly…