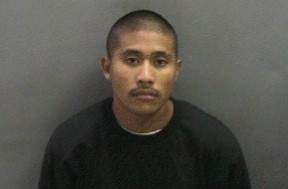 The Orange County Sheriff's Department announced today in a press release that "at approximately 5:30 a.m., Saith Na, the inmate that escaped from Theo Lacy Jail on Friday, March 1, 2013 was captured."
Investigators with the Orange County Sheriff's Department followed up on information that Na was in the Oceanside area. He was located in a motel in Oceanside and taken into custody without incident.
Na, a 26 years old male Asian of Cambodian descent, stands 5 feet 8 inches and weighs 160 pounds, with black hair and brown eyes. He has some distinctive tattoos including "Sar Rors" on the front lower neck, "Shorty" on front upper chest, "Dragons" on the left upper arm and "Koi Fish" on the left lower arm. He was originally booked into Orange County Jail on August 26, 2012 by Santa Ana Police Department for robbery, narcotics, weapons possession and criminal street terrorism.