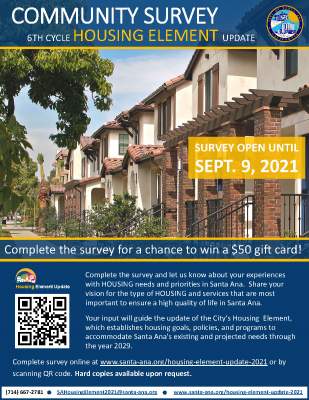 Would you like to shape the future of housing in Santa Ana? Complete the Santa Ana Housing Element Survey!
The City of Santa Ana is in the process of updating its long-range housing plan, called the Housing Element, and needs your feedback. Please take our community survey and share your thoughts on how the City can address housing needs for all Santa Ana residents. The survey is available in English, Spanish and Vietnamese, and will be open until Thursday, September 9, 2021.
Your input is critical to developing a housing plan that addresses the community's needs, values, and preferences. To complete the survey and for additional information on the General Plan Housing Element process, please visit www.santa-ana.org/housing-element-update-2021.
Paper copies of the survey are available upon request. For additional information, you can contact the Planning Division by phone at (714) 667-2781 or by email at SAHousingElement2021@santa-ana.org.
Realice la Encuesta de Elemento de Vivienda
Tham gia Khảo sát Yếu tố Nhà ở